Currently viewing the tag: "Fiber"
I seem to have on going discussions with people about constipation. A few years back, just writing something like that would have seemed really weird but now it's just normal conversation.
Evidently, based on the conversations I've been having, constipation is a pretty common problem. That's not good! This post isn't really going to be […]
Continue Reading

→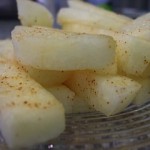 Jicama (pronounced HICK-ah-mah) is my new FAVORITE food. It doesn't look like much in the produce section (and my picture doesn't make it look any better) but boy is it a treat.
If you love fruit and are trying to watch your sugar intake you know it can be very difficult. I think Jicama […]
Continue Reading

→