Currently viewing the tag: "Bacon"
Red meat is back in the news. This happens pretty regularly and it's never good news. Some new study gets publish, the media goes crazy and everyone panics. I often find myself panicking about things I hear or read but in this case I actually didn't think twice about it. When this new report about cancer […]
Continue Reading

→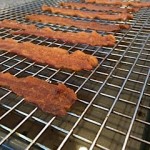 My blog is so neglected. I'm busy with a move across the country and my classes. I am currently in my Endocrine intensive class. LOVE IT. I do miss my blog and really want to get back to posting more regularly but, sadly, I don't see that happening until perhaps next fall. In the mean […]
Continue Reading

→
Scrambled Pasture Raised Eggs, Organic Tomato, Organic Avocado and Uncured Bacon. I ate that really fast.
Yummy primal/paleo breakfast. I usually don't eat breakfast until about 11 in the morning. This plate will probably hold me right up until dinner. Lots of protein and filling healthy fats. If you are looking at that […]
Continue Reading

→