Currently viewing the tag: "Autoimmune Disease"
I just read an article outlining all the ways nightshades could secretly be driving you crazy. I tend to click on articles about nightshades since my husband and I just finished a month of eating without nightshades. For the most part I'd say the results were somewhat inconclusive, meaning we didn't really notice any changes during […]
Continue Reading

→
I just listened to a great presentation over at the PaleoSummit by Dr. Tom O'Bryan. Dr. O'Bryan is a gluten sensitivity and Celiac disease expert. His presentation was titled The Musculoskeletal Connection to Gluten and Autoimmune Disease. It was chalk full of information. I actually listened to it twice. I found a lot of what […]
Continue Reading

→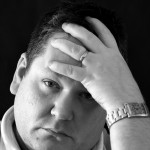 I don't know why, but the term "Leaky Gut" has been coming up a lot in the last week. Do you know what leaky gut is? I'm really starting to get it so I decided I would share.
"Leaky Gut Syndrome: Gastrointestinal tract dysfunction caused by antibiotics, toxins, poor diet, parasites or infections, leading to […]
Continue Reading

→