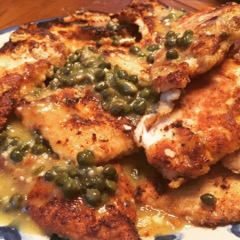 I've had some requests for this Paleo Chicken Piccata recipe. We had a lot of chicken defrosted and so the hunt began. I found this recipe at one of my favorite recipe sites: AllDayIDreamAboutFood.com
I believe the recipe calls for 1 1/2 pounds of chicken tenders. I had two pounds of chicken breast. I just cut the breasts in half, butterflied and then pounded them a little to make them nice and thin.
I didn't measure out the almond flour. I just added more to the plate as I went along. I did add salt and pepper and some garlic powder. I just added the spices until I thought the almond flour looked like it had a good, flavorful amount.
I used two eggs and had to add water to make the eggs last long enough to cover all the chicken. The water trick worked really well. I only had two eggs so glad it worked. I also did not do the double flour dredge. I dipped in the egg, then the flour then put the chicken on a cutting board while I did the other pieces. I find when I double dredge – flour, egg, flour I end up wasting a lot of flour and egg. One dip in the egg and then the flour worked just fine.
I cooked in batches, about 4 chicken pieces at a time. I did what the recipe suggested and put the oven on 200 degrees with a cooking sheet waiting inside. As the chicken pieces cooked, I moved them to the cook sheet in the oven to "hold" until everything was ready to put together. This was a really great tip and worked out really well.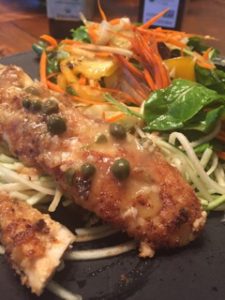 I have no idea how much butter I really used because I had to add butter to the pan every time I add new pieces of chicken. All and all I think I used a half a block of kerrygold butter for the whole recipe including the sauce.
When it came time to add the broth I realized that I only had 1/2 cup – more was cooking but it wasn't ready. I made up the difference with white wine. Because I had more chicken than the recipe called for I made about double the sauce, it still wasn't enough. I like to have extra sauce.
This recipe was really delicious. Two bites in and I declared I would make it for guests. In our house, that's the true sign of a great recipe. The chicken was served over zucchini noodles with a side salad. There were four of us and (I can't believe I'm going to admit this) we ate it all. I did have a bellyache – too much food!
Eat well, feel good, have fun!
Related