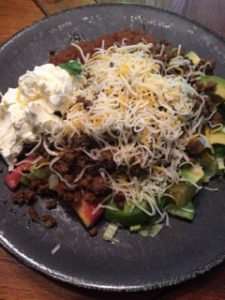 This is by far my favorite go-to, last-minute dinner. It's a double whammy of super fast and super tasty.
If I'm thinking ahead I'll pull the ground-meat out of the freezer in the morning but if it's truly last-minute I'll just grab some ground meat at the store on the way home.
Here is my list of ingredients. You can add or subtract to your liking. After the lettuce and taco meat everything is optional. The whole point of this dish is to have all the fun and taste of tacos without the corn or wheat tortillas. I also use 2 lbs. of ground beef because I like to have left overs. The taco meat is also good in an egg scramble. I guess you could call that a taco scramble.
Ingredients, Taco Meat:
1 Tablespoon of Coconut Oil
1 Onion, chopped (I use a large onion but you can go smaller)

2 lbs of Grass-fed Ground Beef (can use any type of ground meat)

2 – 6 Tablespoons of Taco Seasoning (please see below for the homemade seasoning mix)

1/2 Bone Broth or Organic Beef Stock
Salt and Pepper to taste
Ingredients, Condiments:
6 – 8 cups of Chopped Romaine Hearts (if you're going to have leftovers chop the lettuce fresh when making the leftovers)

Guacamole
Salsa
Sour Cream
Shredded Cheese
Avocado
Chopped Tomatoes
Method:
Heat a large skillet over medium-high heat, add the coconut oil
Once coconut oil is melted, add the chopped onion
Saute the onion 3-5 minutes or longer on low if you want to caramelize the onion
Add a little salt and pepper to the onions
Once onion is done to your liking add the ground meat, break it up as you add it to the pan
Saute the onions and meat until the meat is cooked through
Add a little more salt and pepper
Add the taco seasoning (taste and keep adding until you like it) and mix well
Add the 1/2 cup of broth, stir well
Let the Onion-Meat-Broth mixture simmer until most of the liquid is gone. This doesn't take very long, 5 minutes give or take.
While the meat is cooking set up your taco bar: chopped romaine, shredded cheese, guacamole, salsa, sour cream. If you really want to get fancy you can also add sliced avocado and freshly chopped tomato
Once meat is done BUILD and enjoy!
Adding the broth to the onion-meat mixture really increases the flavor and helps distribute the taco seasoning. I could just eat the meat, so tasty.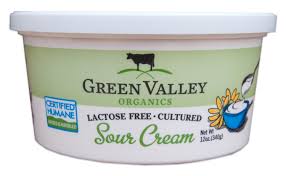 A couple of things, first, sour cream. I am completely obsessed with this sour cream by Green Valley Organics. I have no idea why I picked it up. I don't tend to buy things because they are lactose free. I suspect it was my only organic option at the time so I grabbed it. Oh my!! It is the best. I love it so much that if we made taco salad and I was out of sour cream I might pass on the taco salad. It's possible that I love the taco salad because I get my sour cream treat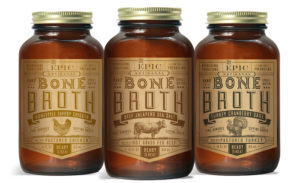 .
Second, bone broth. Now, I know making bone broth can be time-consuming especially if you don't have a pressure cooker. Good news, good bone broth is becoming commercially available. I particularly like the broth from Epic. It's not a huge jar and it is a little expensive but it's mighty tasty. I like having it around for those rare occasions when we run out. I'm so used to having broth in the fridge that I never consider checking to see if I have any before starting a recipe. This has been a problem once or twice. Not a problem now thanks to my back-up Epic Broth.
Oh, almost forgot the taco seasoning recipe.
Taco Seasoning Ingredients:
(I always try to double or triple this so I have lots ready to go):
2 Tablespoons Chili Powder
1 1/2 Tablespoons Cumin
1 1/2 Tablespoons Paprika
1 Tablespoon Onion Powder
1 Tablespoon Garlic Powder
2 teaspoons Oregano
1/2 teaspoon Crushed Red Pepper Flakes
2 teaspoons Sea Salt
2 teaspoons Black Pepper
2 teaspoons of Swerve Confectioner's Sweetener (optional)
Mix it all up and store in an air tight container. Now you're ready for a quick taco dinner. I also use this seasoning when I make fajitas.
So there you have it. All and all I'd say this dinner whips up in about 20 minutes but it sure seems faster than that, maybe it is, I've never actually timed the process.
I hope you all enjoy this as much as we do. I'm heading to the kitchen to make myself left-over taco salad for lunch. YUM!
Eat well, feel good, have fun!
Related