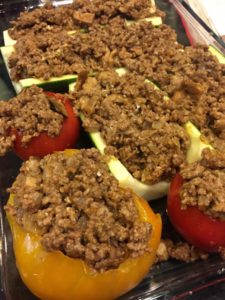 I had a few requests for my grain-free, lamb stuffing which I use to fill zucchini boats and tomatoes.
This is actually a recipe that I change up every time I make it. I use whatever herbs and spices I'm in the mood for. I add extra veggies depending on what I have – shredded carrot is a nice addition. Sometimes I'll even mix meats. So, on that note, use this recipe as a guide and then go crazy and make it with all the things you think are yummy. The think to remember is you don't need any flour or other grains to make the stuffing delicious.
The first pictures is of the pan before it goes in the oven. The one below is a close up of the stuffing after coming out of the oven.
The base of this is really onion, lamb and zucchini pulp (because it's zucchini season).
Ingredients:
1-3 tablespoons of Coconut Oil (for sautéing, use what you need)
1 – 2 Onions chopped (depends on the size of the onions)
Zucchini pulp from zucchini boats (optional, as much or little as you want)
8 oz. of sliced mushrooms (I break them up as I throw them in)
1-2 tbsp of Minced Garlic

2 lbs. Ground Lamb (grass-fed, which most lamb is)

1 – 2 tbsp of Tomato Paste

1 tsp – 1 tbsp of Coconut Aminos
1-3 Tablespoons of Fresh Chopped Rosemary (1 tsp – 1 tbsp of dry)
1/2 – 1 tbsp. of Dried Thyme (to your taste)
Salt and Pepper to taste
1 cups of beef or chicken broth (optional)
1 – 3 egg whites (optional)
Method:
Heat oven to 350 degrees
Cut the zucchini length wise into boats. I often cut the two halves in half so I end up with four smaller boats. This primarily because our zucchini are HUGE! Notice picture.
Scrap out the seeds and toss. Then scrap out a lot of the pulp. You decide how thick you want the boat. I usually try to scrap down to may a 1/4 inch or a tiny bit thicker.
If you want to stuff tomatoes use a paring knife to cut a circle in the top of the tomato. Pop that off the scoop out the insides with a spoon. Make the top opening as big as you need to in order to fill the tom with stuffing.
You can also stuff peppers.
Stuffing:
Chop the onion, chop the zucchini pulp you are going to use
Put coconut oil into a large sauté pan and once melted add the onion
Sauté the onion for a few minutes then add the zucchini pulp. Tip: put the zucchini pulp into a clean kitchen towel and then squeeze like crazy (over the sink) to get as much moisture out as possible.
Sauté the onions and zucchini for a few more minutes
Add some salt and pepper
Add the mushrooms and sauté for another 3-5 minutes.
Add the minced garlic and sauté for about 1 minute
Add the ground lamb. Break it up as you put it into the pan
Sauté until the lamb is no longer pink
Once the lamb looks cooked add 1-2 tablespoons of tomato paste. This is optional but I think it helps with the overall consistency of the stuffing
Stir until the tomato paste is well incorporated
Add the coconut aminos (soy sauce if you use soy sauce)
Mix
Add in the spices – use whatever you like and however much you want my spices are just a suggestion
Mix
Add broth, mix and let simmer until most of the liquid is evaporated
Let cool for a few minutes and then mix in the egg whites – this is optional sometimes I forget to add egg whites and it seems the same
Stuff the zucchini et al. Go crazy and over stuff, use all the stuffing.
If you eat cheese you can even add shredded cheese to the top – my favorite
Pop your dish of stuffed veggies into the hot oven for about 25-30 minutes.
Ta-Dah dinner! (and leftovers for breakfast or lunch)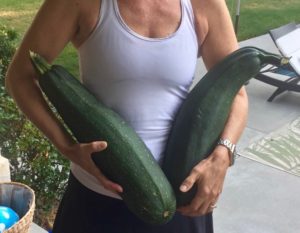 This recipe has saved us. As mentioned, our zucchini plants are going crazy. We had two small plants and they have turn into "Jurassic" zucchini plants with "Jurassic" zucchini. Zucchini boats are really the only thing the huge zucchini are good for. I can also shred them and do but the boats are so easy and delicious!
Eat well, feel good, have fun!
Related