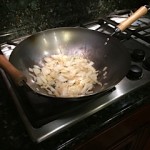 It's still January and we are still 100% autoimmune paleo. I'm going to share one of the recipes that we loved the first time we made it so have continued to make it all month. It's a simple chicken stir-fry. I told you I'd have pictures and I do. I also just installed new recipe-card software. Here's hoping it works ; )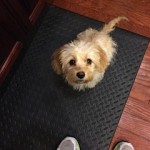 This is a great, do what ever you feel like recipe. The actual recipe is just a guide to get you started. I have found that the easiest way to make this recipe is have everything chopped and ready to go. You may normally do that, I don't, I'm more the tazmanian devil type in the kitchen. I'm learning and getting way better at prep work.
So, the first thing I did was try out my new recipe card software. It appears to work with one slight problem, it's making it hard to add photos. When I add the photos, the recipe card blows up. It appears that I can mix some photos into the text I've already typed so that's what I'm going to do. The first photo is of the onions, garlic and ginger in my new wok. Love the wok, I've been using a giant skillet for years for stir-frys and everything else. Not sure why it took us so long to get a wok, a really good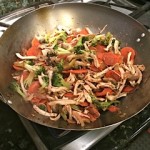 one is not expensive. I think this one was $30. I had to include a photo of Gracie, my helper. She knows I'm going to drop something. The last photo is of the pretty veggies. The stir-fry all mixed and done is on the recipe card – at least it was!?? Not sure where that has disappeared to. Here's the final photo. Enjoy!
Eat Well, Feel Good, Have Fun!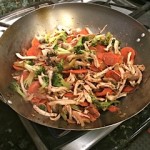 AIP Chicken Stir-Fry
2015-01-25 08:04:53
Ingredients
2 Tablespoons solid cooking fat or your choice
1 yellow onion, chopped
6 cloves of garlic, minced
1 1/2 inch piece of fresh ginger, peeled and minced
3 large carrots, thinly sliced
1 lb. broccoli or broccolini sliced the way you like it
2 cups sliced or chopped mushrooms - how you like them
1/2 tsp. salt
1/2 cup Coconut Aminos
2 cups shredded chicken breast
Juice of 1/2 a lemon (optional) - about 1 tablespoon
Instructions
1) Heat a wok or large skillet over medium heat.
2) When pan is hot add the cooking fat
3) Once fat has melted, add the onion and cook, stirring occasionally until translucent, about 5 minutes.
4) Add the carrots, broccoli, mushrooms, salt and coconut aminos. Mix well, cover and cook for 10-15 minutes. Stir occasionally and check the doneness of the veggies, about 10 minutes for crunchy and 15 for a little softer.
5) When veggies are done the way you like them, uncover and add the shredded chicken. Mix well and continue to stir for 1-2 minutes until the chicken is heated through.
6) Turn off heat, add the lemon juice and serve warm.
Notes
Make a big batch, this is excellent as leftovers!
You can put anything you want in this. I usually add chopped kale and sliced zucchini.
I say the lemon is optional because I often find myself forgetting the lemon and it's still great.
You can serve this as is or with perhaps with mashed cauliflower or mashed sweet potato or even pureed parsnips, go crazy!
By Mickey Trescott
Adapted from The Autoimmune Paleo Cookbook
Adapted from The Autoimmune Paleo Cookbook
The Simplicity of Wellness http://simplicityofwellness.com/
Related