My husband started a new job last July, dream job with a company he has admired and followed for years. Exciting stuff. Unfortunately, dream job is in California and we were living in Chicago with a soon to be senior in high school. Last year was a bit crazy. I was in Chicago with my senior, finishing up high school while my husband was living the good life in California. I don't know if you all heard but the Chicago winter last year was one of the worst. Super fun for me, lots of exercise shoveling snow (never again!).
I am now in California! My son graduated and we hit the road. I arrived early in June and have just about settled in. We still have boxes in the garage but most everything is put away. Oh, there was one box that went missing. It was, of course, a kitchen box. I can't remember everything that was in the box but the one item I do know was in the box, my Vitamix. Can you believe it! I just want to do a quick shout out to United Movers. They have moved us twice and I still like them. I didn't submit a claim for the whole kitchen box because I couldn't remember what was in there – do dads. I did let them know that the one thing I was missing and needed to replace was the Vitamix. I sent them a quote for the amount I would need to replace it and about a week later I got a check in the mail with the exact amount. How great is that!
We LOVE California. We do live in an agricultural area and unfortunately my husband has developed some new allergies. One thing that our Naturopath has been recommending/pushing is bone broth everyday. I have to agree with her. I think everyone should drink bone broth everyday allergies or no allergies. Now, that is much easier said than done or it used to be until I got my new Fagor Futuro 6 Quart Pressure Cooker (recommended by Nom Nom Paleo).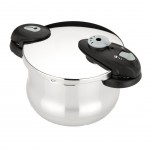 I have never used a pressure cooker before and I will admit I was a little afraid and did hide behind doors/corners the first time I used it. It all went perfectly and the cooker did all the things it was supposed to do and none of the things I was afraid it could possible do, like blow up. I used it ever day for the last week. There's nothing like a new appliance to bring the fun and excitement back to cooking. I made beef stew in 40 minutes, a chicken dish in 30 minutes, beef short ribs in 30 minutes, beef bone broth in 45 minutes (gelled perfectly). I made steamed cauliflower in 4 minutes. I have to say it is way cool.
The beef short rib recipe came from Nom Nom Paleo. The sauce that this recipe produced was beyond tasty. I don't think I've had a sauce that good in a restaurant. You can find Nom Nom Paleo's recipe here.
As I mentioned, the cooker I bought is 6 quarts. This is working out well for 2 people. I would definitely want the 8 quart or bigger for more than 2. You can only fill the cooker up 2/3 of the way and for some things 1/2 way. That is a bit limiting. I was able to make 8 cups of beef stock in my 6 quart pot so that's awesome but for feeding a family/group I would need a bigger pot. Actually, the Nom Nom Paleo recipe above calls for 8 quarts or bigger. She uses 5 lbs. of ribs. I only had 2.5 lbs. of ribs so I adjusted for my 6 quart, no problem.
Let me say, I do also love my crock pot but the pressure cooker is FAST. It also, so far anyway, really intensifies the flavor of what you are cooking. I can't describe the flavor, so delicious – I'm thinking back to those short ribs again.
My pressure cooker is still very new so I'm on the hunt for more delicious recipes. If anyone has any great recipes, cookbooks or pressure cooker recipe sites please let me know. The only thing stopping me is figuring out what to cook!
FYI, I'm still working through my Holistic Nutrition Masters Program. I realized the other day I'm starting year four! I can't believe it. Hopefully I'll finish up this year. I'm still loving it and learning SO MUCH.
Thank you all for checking in to my little corner of the blogging world. I look forward to posting more regularly. Hopefully now that things are settling down here at home I'll be able to organize my time better and visit my blog often.
Eat well, feel good, have fun!
Related