Back in February I was contacted by a company in Lake Forest Illinois called Vital Proteins. They saw my post back in August about collagen hydrolysate and wanted to introduce me to their product line. They have a collagen peptides product and a collagen protein product. The peptides are like the collagen hydrolysate that I wrote about and the collagen protein is a gelatin product.
Here's a quote about their product from their website homepage:
We are dedicated to providing 100% natural, whole food proteins that support animal wellbeing and sustainable eco-friendly practices. Our happy cows openly graze on lush natural grass pastures providing the highest quality of protein.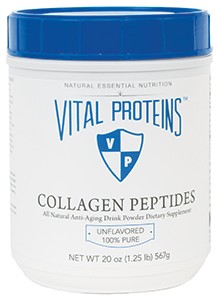 I've been using the Vital Proteins Collagen Peptides since end of February beginning of March. My favorite thing about Vital Proteins Collagen Peptides aside from the actual peptides (love) is the packaging. Their product comes in a 1.25 lb. tub with a big wide mouth screw top. Inside the tub you'll find a handy serving scoop. One scoop is 9 grams of protein. I have to tell you, this makes for really easy serving. I really, really like it.
Now, on to the product itself. As I've mentioned in the past, I am a big fan of added collagen. I've turned my whole family on to it. If you google benefits of collagen you'll find all kinds of stuff about how it's great for an aging body: healthy skin, joint and bone health. All great stuff. The Vital Proteins page also give information about how collagen supplementation can increase athletic performance and help with lean body mass. That's a total plus!
Here's a quote from Vital Proteins website regarding joint pain:
Another more recent study assessed the efficiency of collagen peptides in a randomized, double blind, controlled multicenter trial, in which 250 subjects with primary osteoarthritis of the knee were given 10g of collagen peptides daily. The results showed a significant improvement in knee joint comfort, and again subjects with the greatest joint deterioration benefited most.
There is a lot of information on the Vital Proteins website about Collagen Peptides for healthy skin.
Vital Proteins Collagen, a natural essential protein, has clinically been shown to:

– Promote younger looking skin;

– Improve skin moisture level;

– Improve skin smoothness by reducing the number of micro-relief furrows;

– Prevent the formation of deep wrinkles

– Improve skin suppleness.
If you have the time, you should follow the above links and read more about all the benefits of Collagen Peptides. It all very interesting. As for me, I do think it's important for me to supplement with collagen. I'm at an age where I'm beginning to notice how badly I treated my body (skin, joints) over the last 20 years. I'm trying to make up for all the harsh treatment. I'm not sure that's really possible but I'm happy to try. I know the collagen won't do any harm and I'm pretty certain it does some good. I really think cumulatively it does the most good. When I regularly add collagen to my diet I do notice positive changes. My finger nails grow like crazy as does my hair. My knee that sometimes bothers me isn't something that I think about at all. It's funny, the benefits are very stealth. The easiest way to realize something is different/better is when you stop taking the collagen. I've gone on and off using it a few times, enough times to realize that I just need to use it everyday. I don't consciously stop using it. I just stop making smoothies or having tea, my two favorite ways to incorporate it into my diet. After a while I'll notice my knee bothering me or my nails peeling, little annoying things.
O.k. so, skin health, joint/bone health, athletic performance wow, great list of benefits but there is one more that is very noticeable. Adding collagen peptides to juice, tea, a smoothie, whatever is VERY FILLING. A lot of the time I am NOT very mindful. Unfortunately this happens most often when I'm eating (embarrassing to admit). I've been drinking tea in the evening before dinner, cocktail time. I love to add the collagen peptides to my tea – dissolves to nothing and has no flavor but I know I'm doing my body good. For a while I was finding that I couldn't muster up an appetite for dinner. I didn't think much off it and then one night I said out loud that I wasn't very hungry. My husband said, "I know, when I add collagen to my tea it really fills me up". DING! That's exactly what happens. It's the nights that I have tea with added collagen that I'm not hungry. My daughter also told me that if she doesn't add a scoop to her morning protein smoothy she gets hungrier earlier in the day. So, if all of the other benefits don't sell you on collagen peptides, the fact that it's very filling might.
Here's my new, favorite smoothie recipe:
Peaches – 3 to 4 slices of frozen peaches
Banana – 1/4 of a frozen banana
Mango – 4 chunks of frozen mango
Water – enough to cover the fruit, maybe a little more
1 scoop of Vital Proteins Collagen Peptides
2 scoops of Designs for Health Vanilla PaleoMeal (dairy free) (any protein powder will work)
Freshly grated ginger
a couple of shakes of ground cinnamon
a little ice
I add the frozen fruit and fill my Vitamix with water until it covers the fruit by about an inch. Less water and it turns into a frozen mess that won't blend, even in my Vitamix. Once that is blending well I shave the ginger in and shake the cinnamon in. I then add the Collagen Peptides and the protein powder. Once it looks well blended I add some ice so it's nice and cold like a milkshake.
I've started having my shake for dinner. I tend to eat lunch sometime between 2-4 in the afternoon. I'm not super hungry for dinner when I eat that late. The shake is perfect. The other thing that happens to me at night is sugar cravings. The smoothie helps with that nicely. It's delicious, very much like a milkshake.
Shake additions that I sometime add: shredded coconut, coconut milk, coconut water, chia seeds, flax seed, Maca
I'm always looking for smoothie ideas so please post recipes in the comments if you have one you love.
Eat Well, Feel Good, Have Fun!
Related