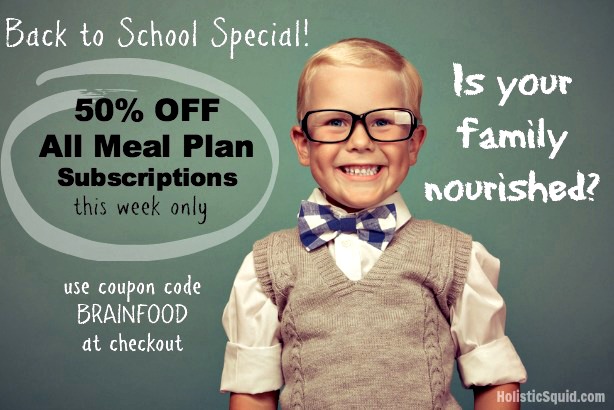 Hi All, I just got an e-mail about this great offer for Paleo/Primal meal plans from Holistic Squid. It looks pretty good so I had to share!
I have a bunch of cookbooks and I follow a ton of recipe blogs but for some reason I still have trouble figuring out what to have for dinner. I have never subscribed to a "meal plan" generator before mostly because I'm cheap and don't want to spend the money but also because I feel like I have the resources so I shouldn't need a so-called "meal plan".
Well, I'm diving in. This offer looked too good to pass up. If I was ever going to try a Meal Plan subscription this looks like a good time to do it.
There are two meal plans offered, Real Food Meal Plans and Paleo Meal Plans. The Paleo meal plan has a primal option if you eat dairy (it was actually that part that pushed me over the edge). There are three subscription types, 1 month, 4 months or 1 whole year. With the 50% off coupon 1 month is only $7, 4 months is $16.50 and the whole year is only $36. I dove in for the year. Oh, you might be thinking that was a risky $36 dollars I just spent since I've never followed or even heard of the Holistic Squid before this morning. Well, don't worry, there is a 30 day money back guarantee. Love that. I feel like I'm writing a marketing ad for this, sorry. I really don't know anything about it but as you can see I'm kind of excited. I really hope it's great and I have a year of delicious food in my fridge.
I'm going to link you back to the Healthy Squid website so you can read more about the program(s) and find the link to subscribe (if you so choose).
Healthy Squid 50% off Meal Plans
Paleo Meal Plan Subscription Page
O.k., here's hoping it great!!
Eat Well, Feel Good, Have Fun
Related