It's Saturday and my regular bacon and eggs just didn't seem as exciting as usual. What to do…
ZUCCHINI PANCAKES!
The Zucchini Pancake recipe that I love and use is from Practical Paleo by Diane Sanfilippo. If you don't have Practical Paleo you should check it out. It's a great book full of tons of nutritional health information and excellent recipes.
The Zucchini Pancakes come out a lot like potato pancakes, they are more savory than sweet. I love sour cream with potato pancakes so it only stands to reason that I would love sour cream with the zucchini pancakes. I didn't have any sour cream on hand but I did have a delicious tub of homemade coconut yogurt.
My homemade coconut yogurt is really think, almost like cream cheese and it has a nice bite which made me think it would pair well with the pancakes. I was right, delicious!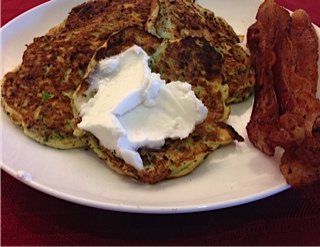 Here's breakfast, as you can see the recipe made a LOT of pancakes. I had already eaten 4 (while cooking), maybe one more than I should have eaten. They're really filling.
You can see just how think the yogurt is. The coconut yogurt is interesting. It does have a bit of a coconut flavor so if you hate coconut you probably won't like this yogurt. The reason I made this yogurt in the first place was to test my probiotic. Yup, that's right, it was a test to see if my probiotic was still viable. If the yogurt doesn't turn into yogurt it's time to toss your probiotic and go buy a new bottle preferably refrigerated and from a reputable company/source. No sense taking something that doesn't have active live cultures. Oh, and if your yogurt does turn out like yogurt with a nice probiotic bite to it, excellent you now have another great way to get healthy bacteria into your diet!
Here are the recipes for the Zucchini Pancakes and Coconut Yogurt (probiotic test).
Zucchini Pancakes
3 eggs (I will add an extra egg if I have extra zucchini)
1 Tablespoon Coconut Flour (also add extra coconut flour if you add an extra egg)
2 Cups of shredded Zucchini (I use my food processor with the shred disc for this, super easy)
Sea Salt and Pepper to taste
Fat of your choice for frying (I used bacon grease since I had just made the bacon)
Beat the eggs with the coconut flour, mix in the zucchini add the salt and pepper.
Heat your pan over medium/high heat and coat with your Fat of choice for frying.
Once pan is hot, spoon your Zucchini mix into pancakes on the hot pan. You can make them as small or large as you want but remember you are going to want to flip them.
Cook until they are holding together and then flip and cook until done. Just like normal pancakes!!
You can eat them warm or cold. They are great as leftovers, just like potato pancakes. Oh, and they are great with Coconut Yogurt or I'm sure, sour cream ; )
Homemade Coconut Yogurt (probiotic test)
Full Fat can of organic Coconut Milk (Native Forest is a great brand, no BPA in their can lining)
Jar with tight-fitting lid (Mason jar will work well)
Probiotic Pills or Powder (whatever you use)
Pour the FULL FAT coconut milk into the jar you are using (don't use light coconut milk, or the coconut milk you buy in the boxes in the refrigerated section of grocery store) then open and pour 5-6 probiotic capsules into the coconut milk. Put the lid on the jar tightly and shake.
Leave the coconut probiotic mix on the counter in a dark cool area for three to four days. Shake the jar twice per day. Around day 3 and certainly by day 4 the mixture should feel thick when you shake it. This is when you want to put it in the refrigerator and let it "harden". Do NOT remove the cover at any time during this process. Remove the cover only after the yogurt has spent the night in the fridge.
My yogurt came out really thick, as I mentioned. I use it like sour cream. I don't really like yogurt so this works for me. If you want to eat it more like creamy yogurt you might want to stick it in the fridge around day 3. If it's still a bit too thick you can always add a little coconut milk to it and stir it up. To sweeten up you can add fruit and/or honey.
There you have it. Enjoy!
Eat Well, Feel Good, Have Fun
Related