This is one of those weird recipes that catches your eye but maybe you don't think much about. I was flipping through People magazine and saw a recipe for Roasted Figs topped with Ricotta Cheese. The picture sure looked good and there wasn't much to the recipe so I decided to give it a try. YUM!
Figs are in season right now so here's an easy recipe to help you include "in season" food in your diet. These figs are really good but unfortunately my photos aren't great. The figs got a little sloppy while roasting and kind of fell over in my roasting pan. I really want to do the figs justice so I did steal part of the picture from People magazine (photo to the left). I fear the police will be knocking on my door any minute.
Ingredients:
4 large sprigs of fresh Rosemary
6 ripe fresh figs (use a variety if you have that option)
2 tbsp. olive oil, divided
6 tbsp. sheep's milk or whole milk ricotta cheese
Salt & Pepper
Method:
The recipe says to drain the whole milk ricotta over night in cheesecloth. I'm not sure that is necessary. I did but it hardly seemed worth it. Very little liquid drained from the cheese.
Preheat oven to 450 degrees.
Place Rosemary springs in the bottom of a broiler-safe pan. Drizzle with 1 tbsp. of olive oil (I didn't measure my olive oil, I just used what looked good), season lightly with salt and pepper.
Cut an X half way down into the top of each fig (I tore off the stems first). Gently squeeze the fig from the bottom so the X opens and the fig looks like a flower.
Place the figs upright on the rosemary in the broiler pan.
Drop one tablespoon of cheese in the center of each fig. I did not measure my cheese, I just used as much as I wanted.
Season the cheese lightly with salt and pepper and then drizzle with a little olive oil.
Roast the figs for 6 – 10 minutes. I was going to 10 minutes but it was too long. I'm going to bet 6 is just right.
Once figs are roasted to your liking place them under the broiler for about 1 minute, until the tops are light brown. You can probably skip this step if you don't have a broiler.
Serve.
These figs are really easy but they also seem a bit fancy. We had them last night with salad and spider dogs. Yup, that's right, lazy dinner night. The figs really brought the hot dog and salad dinner up a notch (several notches really).
The following two images are of my figs. As I mentioned they are a bit messy but I hope you can see past that to the yummy goodness.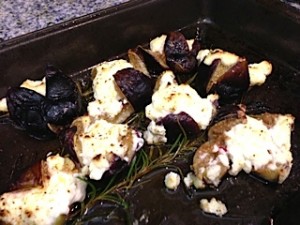 In the pan, having come right out of the oven. The flavor of the rosemary really comes through in the figs.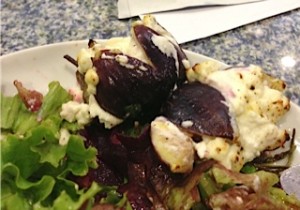 And here they are dressing up my dinner plate. Look at all the cheesy goodness. I bought more figs today.
There you have it. Super easy and really delicious. Enjoy.
Eat Well, Feel Good, Have Fun
Related