I was at Whole Foods yesterday and really wanted a tasty treat. I headed for the chocolate bars but then remembered that our Whole Foods carries Hail Merry Macaroon cookies. These cookies are really yummy & chewy. They are gluten-free & vegan. Hail Merry makes two types of Macaroons, the blonde and the chocolate. I prefer the blonde. The Hail Merry Macaroons are more like little nuggets than cookies. I just love them and for that reason rarely buy them.
After my husband and I polished of the little bag of cookies (2 servings each – oops) I started reading all of the information printed on it. Turns out these cookies are dehydrated at a low temperature to "protect the organic extra virgin coconut oil and delicate omegas in the almond flour." Hmmm, I liked the sounds of that but more importantly – did they say dehydrated? I have a dehydrator! Make cookies in the dehydrator – cool! On to the ingredient list (which I have read many times): organic shredded coconut, organic maple syrup, natural raw almond flour, organic extra virgin coconut oil, pure madagascar bourbon vanilla, sea salt. As it turns out I have all of the ingredients in my cabinet (maybe not madagascar bourbon vanilla but I do have very excellent vanilla).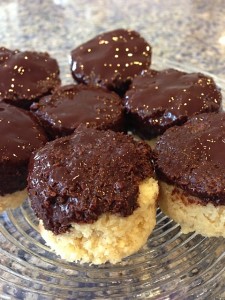 My quest of the weekend, try and replicate if not improve the Hail Merry Macaroon recipe. I would have to say, my first round is AWESOME. They are sweet, in fact, that is the only thing about the Hail Merry Macaroons I would change (and now I can), too sweet. For my first try I tried to replicate the cookies exactly, sort of. Basically, I didn't fiddle with the sweetness, mostly (I couldn't help it, I dipped them in 85% dark chocolate, this did not change the sweetness, if anything it cut the sweetness a bit). My cookies are very sweet. I plan to reduce the sweetener in the next batch. Actually, I plan to reduce the sweetener as much as possible, until I end up with a cookie that is just slightly sweet, enough to make it taste like a treat but not gooey sweet.
So, to begin, I had no idea where to start. I didn't even know you could make cookies in the dehydrator. I comb the internet for Coconut Macaroon cookie recipes and then changed my search to include the word dehydrated. I found several recipes, most had eggs. The Hail Merry cookies do not have eggs. I finally found a recipe that had a similar ingredient list. You can read that recipe here. The only difference was the sweetener. Hail Merry uses maple syrup. The recipe I found used honey. I decided to split the difference and use half honey and half maple syrup. I think I'll go for all maple syrup in the next round but use only half what I used this time.
O.k., so here's the Ingredients and Method:
Ingredients:
3/4 cup very finely ground blanched Almond Flour
1 1/2 cups Dried, Shredded Unsweetened Coconut
2 Tbsp. raw honey
2 Tbsp. Maple Syrup
1/4 cup Extra Virgin Coconut Oil
2 Tsp. Vanilla
pinch of Sea Salt
Method:
Combine the almond flour and shredded coconut in a bowl
In a different bowl, combine the honey, maple syrup, coconut oil (I didn't melt mine, worked out fine), vanilla, salt – I used my hands to mix this all up. It was easier to squish down the clumps of coconut oil.
Once all the wet ingredients are mixed well, combine that with the almond flour/shredded coconut mix. I used my hands to combine all of the ingredients into the macaroon dough.
I used my 1/8 cup to form my little cookie nuggets. I packed the coconut dough into my little 1/8 of a cup and then tapped it out into the palm of my hand. Perfect. I might go smaller next time.
I put all my little nuggets on my dehydrating tray. I used the fruit roll-up tray because I read that in someone else's recipe. I will not do that next time. I will just put the cookies on the regular slotted tray. The fruit roll-up tray delayed the cooking time because there was no air flow to the bottom of the cookies. Once I removed that tray and put the cookies on the slotted tray they "dried" right up (only on the outside, chewy and moist on the inside).
I let the cookies dehydrate for 6 hours. I think they will cook much more quickly when I use the slotted tray. I kept checking the cookies to see how dry the outsides were. This led to a lot of taste testing. We (my husband and I ) needed to make sure the cookies were moist on the inside even though they were getting dry and crunchy on the outside. SOOOO good, which led to excessive cookie checking. I'm lucky I had any left to take a picture of. Basically, you can eat these raw, right out of the mixing bowl but making the cookies is fun and a much nicer presentation, plus, your fingers don't get all greasy once the cookies have had some time in the dehydrator.
My batch of dough made 12 cookies, 7 of which made it past the taste testing process.
Here are some pictures of the process: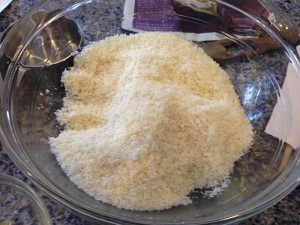 The dry ingredients all mixed up and ready to go.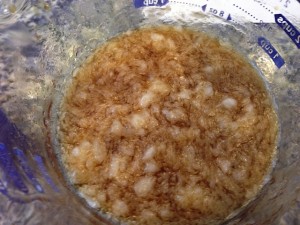 The wet ingredients all mixed up and ready to go.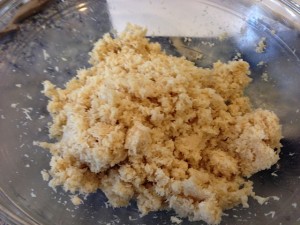 The dough.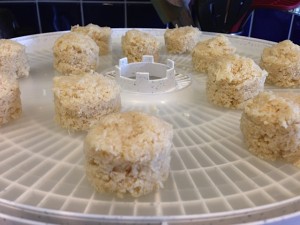 And finally, the cookies on the dehydrating tray.
So, here's the deal. My cookies were almost exactly like the Hail Merry cookies. What I mean is, the taste and texture was pretty identical, although I think mine are better, at the very least fresher. The difference is in the nutritional content. The Hail Merry cookies give a serving size of 2 macaroons (.88 oz). Each of my cookies measured just about .88 oz. So one of my cookies was about the same size as two Hail Merry cookies. That's fine but my nutritional content numbers were slightly different.
Calories: Hail Merry (for 2 cookies) 140 calories, mine 175 calories for one cookie. Fat: Hail Merry 11 grams, Mine 15 grams. Carbs: Hail Mary 10 grams, Mine 9 grams. Sugar: Hail Merry 4 grams, Mine 6 grams. Protein: Hail Merry 1 gram, Mine 2 grams.
I don't really care about the nutritional content. I don't worry about calories. I do look at fat when I eat something like this because I expect it to have a decent amount of fat and be quite filling. I always look at sugar so I was disappointed that my sugar was at 6 grams (actually, higher with the chocolate), it needs to be less. I plan to take care of that as I tweak the recipe. Over all, I was frustrated that the nutritional makeup of my cookies was different than the Hail Merry cookies. I guess I shouldn't be surprised but I am. I really want to get the sugar content of each cookie way down. I'll keep you posted.
*by the way, if you don't have a dehydrator the original recipe says to bake at 195-200 degrees for 45-50 minutes.
Eat Well, Feel Good, Have Fun!
Related