Last week my CSA box had a beautiful butternut squash in it. That squash sat on my counter all week. On Saturday I decided I better do something with it before it went bad. So, one more butternut squash soup recipe to add to your list of butternut squash soup recipes.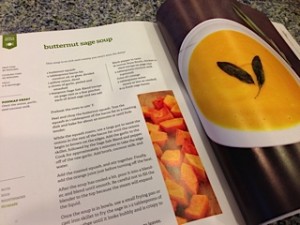 It's possible that everyone in the entire world has a go-to butternut squash soup recipe, everyone but me that is. Well, that was until I made this butternut squash soup. I got this recipe out of Diane Sanfilippo's new book, Practical Paleo. I follow Diane's blog and have always liked her recipes so I bought her book as soon as it was available (actually, I may have pre-ordered it). I love the book, as I knew I would. Really, really yummy recipes.
This recipe is actually called Butternut Sage Soup. It is so easy (I had a butternut squash and an hour later I had the best soup ever) that I'll have it memorized the next time I make it.
There are three things that make this soup really tasty.
The roasted butternut squash slathered in coconut oil. It was almost impossible to make this soup because the roasted squash was so delectable all caramelized and soft as it came out of the oven! I was strong and did not eat it all off the tray.
Sautéed onions and garlic. Need I say more.
Coconut milk. As far as I am concerned, if a recipe calls for coconut milk it's going to be a winner. The coconut milk in this recipe is optional. Optional! Never.
O.k., so here's the recipe, sort of, pretty much, I added a bit, changed a bit but it's pretty much the recipe right out of the book. Diane uses bacon fat, I used coconut oil (I'm always trying add coconut oil to my diet). Diane uses bone broth, which I didn't have handy so I just used my store bought free range, organic chicken broth. Diane has a recipe for "Sage Salt", I used dried sage and salt.
Oh, one more thing, coconut milk. Don't use the coconut milk that comes in those boxes. Buy the full fat coconut milk in cans. When you open the can it won't look like coconut milk, it will look like white frosting. The coconut milk has separated and the cream is at the top of the can while the liquid is hiding in the bottom. I dump the whole can into my mini food processor – scrap out the coconut cream and then pour the coconut liquid (water) on top – and mix it back into coconut milk. I then pour the coconut milk into a jar and save what I don't use in the refrigerator. It goes bad quickly so use it in smoothies or pour it over berries or include it in other recipes so you don't waste it. It's way too delicious to waste.
Ingredients: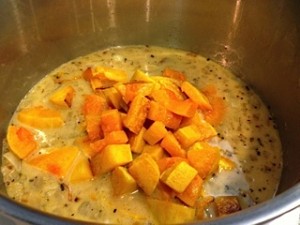 1 Butternut Squash
4 tablespoons coconut oil, bacon fat or ghee (divided)
1 Yellow Onion diced
4 cloves of Garlic, peeled and smashed
a pinch of Dried Sage (I used close to a teaspoon)
a Pinch of  Salt (give or take until it's what you like – I used at least a teaspoon)
Black Pepper to taste
16 ounces Chicken Broth (chicken bone broth if you have it)
2 tablespoons Coconut Milk (optional – I used the coconut milk, in fact I think I used close to 3 tablespoons)
2 tablespoons of water (more or less as needed – I added the water at the end after all of the ingredients were processed together. It was really thick so I actually used a lot more than 2 tablespoons)
Juice from 1 orange
8-12 Fresh Sage Leaves (I didn't use these)
Typically, I was liberal with the measurements. I'm not really sure how much coconut oil I used but it was probably close to 4 tablespoons. I used extra coconut milk and extra sage and probably extra salt.
Method:
Preheat the oven to 400 degrees.
Peel and cut up the butternut squash. Toss the squash chunks in coconut oil (or whatever you use) until they are nice and shiny. Lay the squash out on a baking sheet so each piece is in contact with the baking sheet. Place in the oven and roast for about 40 minutes or until fork-tender. I left the squash in until the pieces started to caramelize around the edges. 40 minutes was exactly the right amount of time.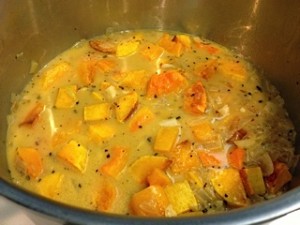 While the squash is roasting. Heat the rest of the coconut oil (or how ever much you need) in the bottom of a big pot. Toss the diced onions in and sauté until they begin to get brown around the edges (longer if you like). Add the smashed garlic to the sautéed onions along with the dried sage, salt and pepper. Cook for about 2 more minutes. Add the broth, and coconut milk.
Add the roasted squash to the pot and stir it all up. Squeeze the orange juice in and stir again (bits of orange pulp dropped into the soup as I was squeezing the orange, I left them in there. I figured that it could only make it yummier). Turn off the heat and let it cool a bit. After it has cooled put the whole mixture into a vitamix or blender or food processor and blend/process until smooth. This is when I added the water. It was really thick so I used the water to thin the mixture a bit, not much, just a little.
(I didn't do this part but it looks good) In a small frying pan or cast iron skillet fry the sage leaves in butter or ghee until they look crispy to the touch. Garnish the soup with a couple of sage leaves.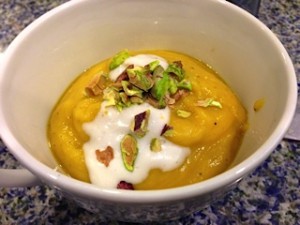 I wasn't sure I was going to get a picture because the soup was getting gobbled up while it was still in the Vitamix. I was able to save some and get it into a cup. I dribbled a little coconut milk on top and then sprinkled it with some crushed pistachios. Delicious.
So, there you have it. If you feel like trying something different with your butternut squash soup I don't think you will be disappointed. Enjoy.
Eat Well, Feel Good, Have Fun!
Related