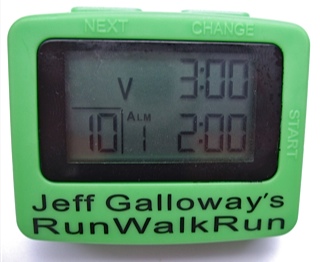 That is the "GymBoss", an interval timer. I think I have mentioned the GymBoss in a past post, probably when I first discovered it. I'm mentioning it again now because now I LOVE IT!
I played tennis this summer and did some sprints but as the summer progressed I really let my exercise go. I took a giant break. It wasn't completely intentional, it just sort of worked out that way. The nice thing about the big break is, all my aches and pains (really, just the beginning of aches and pains) went away. Rest really is the best medicine.
Well, we are entering fall and I'm ready to get back to a regular exercise schedule. I pretty much gave up running about a year ago. I prefer sprints now. I really think that interval exercise is the best exercise. Sprints are hard. I'm in no shape to go do 30 second all out sprints. Just the thought makes me a bit nauseas. Enter, the GymBoss.
I'm sure you have noticed that my GymBoss is a hideous green color. I bought that color on purpose (there are other colors available) so I would be able to find it lying around the house. It's a hard color to over look. Sure enough it kept catching my eye tucked away over in the corner of the kitchen counter. I finally decided to dig it out and use it to do some easy interval run/walks since I wasn't in any shape to do High Intensity Sprints.
LOVE IT! I've been lifting weights during the week but have used my Gym Boss at the end of each week for my interval cardio workout. I've only used it twice so far but those have been my favorite exercise days of each week. I do have interval music on my Ipod and I have used that in the past when I've done interval sprints but it's more fun to listen to my favorite music when I'm working out. This little gadget allows me to listen to my favorite exercise songs and still be prompted at each changing interval in my workout.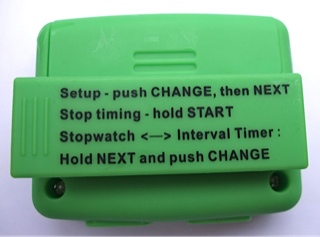 It's super easy to set up. In fact, the set up directions are written right on the back so you'll never forget how to do it. Awesome.
My Gym Boss is currently set for a 3:00 minute interval, then 1 vibrate alarm and then a 2:00 minute interval. It's set to do that 10 times, so 10 intervals. You can set the alarm to vibrate, or beep (high or low volume) or vibrate and beep. You can also set the alarm to go off more than once.
I walk the first 3 minutes and then run the 2 minute interval and repeat up to 10 times. I just set if for 10 times because I didn't want it to stop before I was done. I knew I wouldn't be able to do 10 intervals so I figured that was a good amount of time. I did 7 intervals this morning and it took me 40 minutes. The week before I only did 25 minutes. I'm happy with 40 minutes I don't really feel like I need to do more but we'll see how my body feels next time I'm out.
Once I feel like my 3 minute / 2 minute setup is too easy (that will be nice) I'll switch it up and probably cut back on my walk time. I'll eventually cut back on my run time too because I'm going to want to run faster for a shorter amount of time. Even with a two minute run time I try to run faster than I would if I was out for a 3 mile, steady state cardio run. I am definitely huffing at the end of my 2 minute run intervals. It's great!
If you are interested in the GymBoss here is a link to their website. You can use it for all kinds of interval work, be creative. It's a little thing that easily clips to your clothes or fits in a pocket. It's $19.95 and comes in much nicer colors than the – not found in nature – green that I have.
Eat Well, Feel Good, Have Fun!
Related