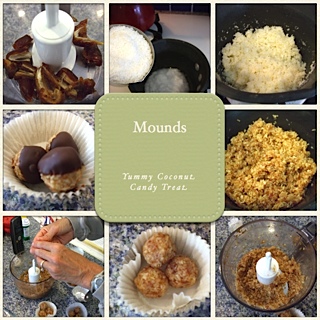 I have been trying to keep my carbs low(ish), 50 grams or less a day while at the same time increasing my fat. I'm messing around with a ketogenic diet. I've been in ketosis in the past and probably cycle in and out depending on what I'm eating but I wanted to make an effort to be more in than out. So that's what I'm doing these days. You can read more about Ketogenic Diets here and here.
I liked the way I felt when I was fat adapted and burning ketones. I had lots of energy, wasn't hungry, ate well and felt really good. I really let things slide over the summer. I had plenty of treats and didn't really pay attention to macronutrients too much.
I've been pretty careful about my carb intake for the last few weeks. Lots of yummy veggies, a little fruit and NO SUGAR. It feels good. My energy isn't there yet, in fact I've actually run out of gas. Not a good feeling but a common pitfall until the transition is made.
The hardest part of all of this is, increasing my fat in healthy ways. I'm trying to incorporate coconut oil whenever possible. I have also included full fat delicious coconut milk in my diet whenever possible. Basically, the more coconut the better for me. Since I was trying to figure out creative ways to incorporate more coconut into my diet I decided to check in over at the Coconut Mama's blog. She always has some yummy coconut thing going on.
It didn't take me long to click into her dessert recipes. I have been off sugar for a couple of weeks – totally off, and I do miss it. I was hoping to find something that would be a tasty treat but not put me on a sugar roller coaster. The  "Healthy Homemade Mounds Candy" recipe caught my eye. I walked away from it for several days but I finally gave in and made the recipe yesterday. My recipe didn't work out quite like the original but it was tasty none the less.
I followed the directions as stated but something didn't seem right with my mixture so I had to go rogue. Here's the recipe, I'll note where I modified.
Ingredients:
1 cup organic shredded coconut (I used unsweetened)
1/4 cup coconut oil
3-4 medjool dates, pitted (I used 4, I LOVE dates)
1/2 teaspoon vanilla extract
pinch of salt
2 bars of organic dark chocolate (I used green & black 85% dark and only 1/2 of one bar)
What to do:
1) In a small sauce pan gently heat coconut oil and shredded coconut on low heat. The shredded coconut is supposed to "puff" after a few minutes in the heated oil. Once you get the "puff", remove from heat.
*Here's where I had my first problem. I melted the coconut oil in the pot before I added the shredded coconut. Maybe I wasn't supposed to do that, I don't know. In any case, I'm not sure if my coconut ever "puffed". It did start to brown, not necessarily a bad thing – toasted coconut, YUM. I finally had to remove it from the heat because it was really starting to brown. There was still quite a bit of oil that hadn't been incorporated into the shredded coconut. Hmmmm
2) Process the dates and the 1/2 teaspoon of vanilla in the food processor until "creamy and smooth"
* Problem #2, my date/vanilla mixture did NOT get creamy and smooth. It turned into a big processed date ball. That didn't seem right but I moved on to step 3 anyway.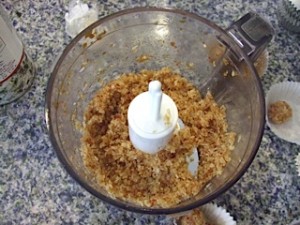 3) Mix coconut mixture with date mixture and "POUR" into a small, bread loaf size pan. Place in freezer for an hour or until set.
* Problem #3, there was no way my mixture was going to "pour". It now resembled a large coconut/date ball and it was dripping with coconut oil. Still didn't seem right so I threw the whole thing back in the sauce pan and heated it for a couple more minutes hoping the oil would get absorbed. No luck. I then decided to put the whole mess back into the food processor and process everything together – just for a few seconds. It still wasn't anywhere close to "pour" constancy but it did look good.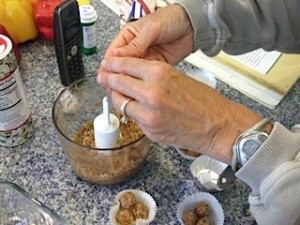 Here's where my directions are totally different than the original recipe:
4) Take coconut/date mixture out of food processor. Roll/squeeze into tight little coconut balls (this also squeezes out excess oil). I ended up with three little balls in a single small paper muffin cup (I was hoping the paper would help absorb any excess oil). I had about 9 sets of 3 balls. I put them all in the freezer for about an hour.
5) I melted half of a Green & Black 85% dark chocolate bar in the microwave and dipped one side of each coconut ball in the chocolate and then let all the coconut balls dry on parchment paper. I had a lot of chocolate left over so I didn't even use a whole half of a chocolate bar.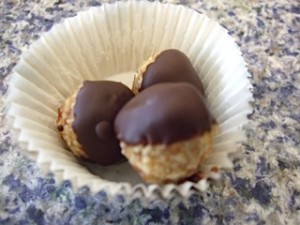 The verdict: YUM. They were good frozen without chocolate, they were good freshly dipped in chocolate but they were the best at room temperature. The coconut was much more flavorful and chewy. My husband thought the chewiness made them a very satisfying treat. I would have to agree.
Next time we make them we are going to add some almonds – sometimes you just feel like a nut.
Eat Well, Feel Good, Have Fun
Related