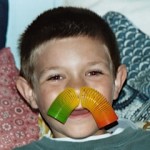 This is sort of a random post. It's not really about food or nutrition, it's about fun. My littlest rascal turned 16 this week. What do you call a "sweet sixteen" party when it's a boy? "Sa-weeet" Sixteen? Whatever, I'm sure someone has a clever term for the boy version of "sweet sixteen".
There are two things you should know about my son, he doesn't ask for much (really, anything) and he's a huge fan of the show Survivor. He's such a fan we actually think of him as a bit of a Survivor Savant. He can tell you about every season, episode, and participant. It's crazy. By the end of the first episode of each season he knows every participants name and their "out of the gate" strategy.
Every year, since he was born we have celebrated his birthday at our cottage in Michigan. For years, my husband pulled together a very elaborate Survivor birthday party for my son. Huge, with many events which always included a physical challenge, a water challenge, and a mental challenge. Below I have two photos from one of the physical water challenges.
Here are a few more photos of "tribal counsel", and a mental "puzzle" challenge.
O.k., back to the point of this post. No Survivor birthday party at the lake this year. Of all the years to not be at the lake! Well, it worked out great. As I mentioned above my son doesn't really ask for anything but this year he asked for two things, an outdoor movie party and a WaterMelon Roll. We had suggested the outdoor movie night a while back. He remembered and thought that sounded like a good idea. The WaterMelon Roll is a yummy treat made out of sherbet. We are originally from Massachusetts and every summer Friendly's (ice cream place) would come out with their WaterMelon Roll. Turns out you can't get Friendly's in Illinois nor could we find anyone who made a "WaterMelon Roll".
We don't own a video projector so I had to figure out where to rent one. I looked at buying but they are pricey. As it turned out my google search revealed a lot of rental places but they were all mail order. Nothing close. This made me a little nervous but the date was approaching and the outdoor movie was really the only thing he had asked for. I ended up renting the projector from a company called ATS Rentals. This was the best thing I've done in a long time. The projector was scheduled to come on Friday and then I would ship it back to them on Monday. The price was $99. That seemed pretty good to me for a three day rental (especially after looking at purchasing). Shortly after I placed my order I received an e-mail letting me know that ATS could send me the projector a day early for no extra charge – who does that!!! Right at that moment I thought they were the greatest. Then the projector came and ATS included goodies with the projector. I told them it was for my son's birthday (I mean, I guess I did but I don't really remember) and they included a little happy birthday note and some jelly beans, pop rocks and popcorn. So cute.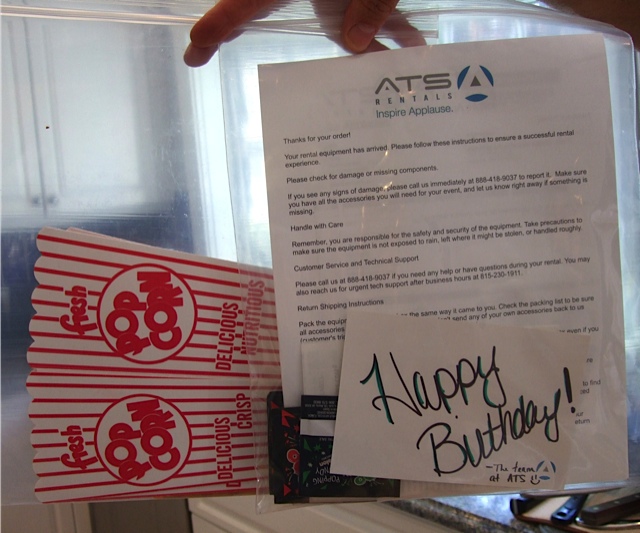 I realize that the pop rocks, jelly beans and popcorn are promotional items but still, so fun!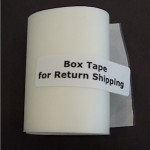 There were two other things in the box besides the projector, cables and instructions. My postage paid UPS return label and packing tape. Yup, that's right, they included the packing tape! I know, it seems dumb that I'm so excited about packing tape but come on that is serious custom service! Packing tape!!!
Movie night was a huge hit. The kids had a great time. We started setting up the outdoor "theatre" Saturday morning. It was a little tough getting a handle on the screen size since it was such a beautiful sunny day so we moved the projector to the basement so we could measure the screen size on the wall. It took my son all of two seconds to envision life-size video games. He asked if we could hook the Wii up to the projector. That's right, life-size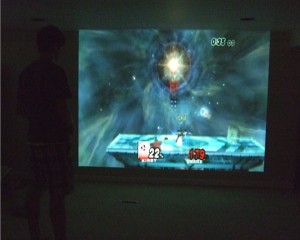 Super Mario Brothers! You can just make out my son's shadow on the left side of the image. The party wasn't supposed to start until about 6:30 pm but everyone came over early to play video games in the basement first. It is pretty cool. In fact, my daughter and I are pretty excited about doing our Hip Hop Abs with a full size Sean T and gang this morning. Hee-hee.
We did end up making a WaterMelon Sherbet cake. It came out great and was delicious. We were a bit worried about getting it out of the plastic bowl we used as a mold. My daughter figured that out. She turned the bowl upside down on a plate and put steaming hot towels on the bowl and out popped the cake. I'm glad she figured it out because I never would have.
If you are interested in a refreshing summer dessert here is how we made the cake:
Ingredients:
KeyLime Sherbet
Vanilla Ice Cream
Raspberry Sherbet
Tiny Chocolate Chips
Method: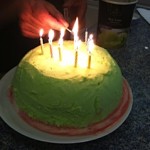 Leave KeyLime sherbet on the counter until it gets soft enough to spread in a bowl. You want a pretty thin layer of KeyLime. Cover and place in the freezer until it gets hard (ours never got really hard – not sure if it's our freezer or the nature of Sherbet). Once you think the KeyLime layer is ready start to let the Vanilla Ice Cream get soft. Once that is soft enough to spread put a thin layer over the KeyLime and then back into the freezer to harden up. You have to let the Raspberry Sherbet get pretty soft because you need to mix the tiny chocolate chips into it. Once the raspberry is all mixed up with the chocolate chips fill the rest of the bowl/mold with the raspberry and then let the whole thing harden up in the freezer.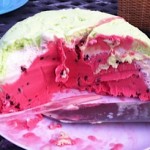 It was yummy. I wasn't careful about the ingredients for the cake. All of the sherbet had High Fructose Corn Syrup. Let me tell you, that stuff is addicting. I don't even like sherbet and I couldn't get enough of this cake. BAD.
Oh, the other big food item the kids had were "Spider Dogs" (that's right, super healthy sixteenth birthday party food – NOT). We were introduced to spider dogs last year when we were visiting friends up in northern Canada. You take a normal (nitrate free) hot dog and slice the ends so each end of the hot dog has four legs. Leave about an inch in the center of the dog uncut,  you need that part to hold the legs. Stick the dogs on skewers and roast over the fire. The legs curl up and the dogs look like spiders. The best part is you don't use a bun. The hot dogs turn into crunchy finger food. Here's a photo of the spider dogs.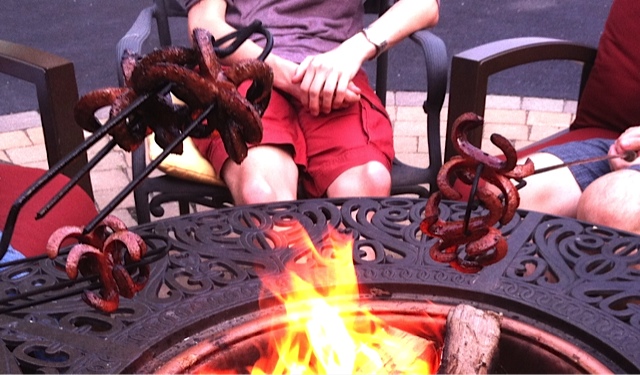 Here are a few photos of outdoor movie night. The first is the "theatre" before it got dark. The second is of the kids moving the chairs and getting ready and the third is everyone settled in and movie time.
It was pretty cool. The screen was huge. It's hard to see that from the photo but believe me it was giant. The evening was just perfect. We have been having unbelievably warm temperatures, so warm that we haven't been able to use the backyard, even at night. Last night was the perfect summer night. All the kids had blankets.
If you are thinking of having an outdoor movie night and would like to rent a projector, I highly recommend ATS. I suspect that we will rent from them again.
My nutrition classes are going well. I'm still LOVING every bit of it and am trying to pull together information for new posts about all the great stuff I'm learning. The summer is screaming along so I probably won't be getting too much up on the blog until everyone heads back to school – we are having way too much FUN!
Eat Well, Feel Good, Have Fun!
Related