Paleo Pad Thai – YUM! This recipe is in my new favorite cookbook, Well Fed by Melissa Joulwan over at The Clothes Make The Girl blog.
This recipe is found on her blog so I don't feel weird about reproducing it here. If you follow the link above it will take you to the original recipe.
Let me start with, this is so good. The recipe calls for roasted spaghetti squash as the "noodles". As you can see from this picture I did use roasted spaghetti squash. What you may not be able to see without close inspection is that I also used a different noodle, my new-found FAVORITE noodle. If you look closely you can see bits of clear noodle mixed into the upper left area of the pad thai. Those are Kelp Noodles. Yup, that's right, KELP noodles. Sounds a bit nasty doesn't it. Good news, not nasty. They have no smell, no flavor and they are crunchy. The texture is like a bean sprout. You can eat them cold in salad or you can sauté them with whatever. They heat up nicely and taste like whatever sauce you use. Really, really good.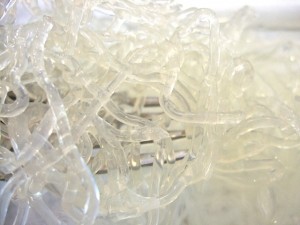 Here's a close up picture of the noodles. They look kind of like those plastic bracelets all the kids were wearing for a while. They kind of feel like that too. Probably too much information. Trust me, they are good, especially with this Pad Thai dish.
They are made by a company called Sea Tangle Noodle Company. Here's the bullet list on the package:
Made with mineral-rich sea kelp
Low in carbs and calories and fat-free
Free of all allergens
Ready to eat
Neutral Taste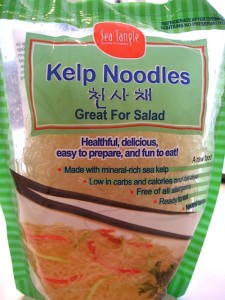 I was nervous but I'm glad I tried them. My daughter loves the NoOodles but I'm not a huge fan. Too mushy for me (I'm probably preparing them wrong). It's fun eating noodles again while at the same time adding kelp to my diet. I never thought that would happen!
The first time I had the Pad Thai I mixed a little of these noodles in and then put the whole dish on the spaghetti squash noodles. After that I heated the extra Pad Thai in a frying pan with kelp noodles and extra "sunshine" sauce. Delicious. I will only use the kelp noodles in the future. I get plenty of spaghetti squash in other recipes.
I bought my kelp noodles at Whole Foods. Evidently you can buy them over the internet, even at Amazon. Price shop. I noticed some people saying they saw them for $10 a package. Whole Foods charged me less than $4.00/package.
Pad Thai Recipe:
1 batch of sunshine sauce (recipe below)
2 large eggs
2 teaspoons coconut aminos
2 teaspoons plus 1 teaspoon coconut oil (or fat of choice)
1/2 medium onion, thinly sliced (about 1/2 cup or however much you like)
1 cup snap peas, thinly sliced lengthwise
2 cups cooked spaghetti squash OR as much Kelp Noodle as you want
6-8 ounces grilled chicken thighs, diced
I was pretty liberal with this recipe. It's just a mash-up. I did only use 2 eggs but other than that I just added what I thought would be a good amount of veggies and chicken (I wanted left overs). I had plenty of "Sunshine sauce". I only used about 1/3 for the original batch of Pad Thai. I mixed a bit of the extra Sunshine sauce into my left overs each time I heated them up. I got three big (really big, probably should have shared) servings out of this recipe. As for the noodles I just dropped as many noodles into the pan as I thought I could eat. I then dumped a portion of the left over Pad Thai on top and mixed it all up. That's when I added the Sunshine sauce. Once it was heated I put it all on a plate and ate it. It took about 2 minutes to heat the left overs with the noodles and sauce. I love super fast meals.
Method:
Scramble the two eggs in a bowl with the coconut aminos. Heat a skillet, add your fat of choice and let it melt. Pour in the eggs and let it cook into an egg pancake. You'll want to flip your pancake. Once it's browned on both side take it out of the pan and slice into strips. You can also just scramble the eggs. That's probably what I'll do next time. My pancake didn't really work. It stuck.
Using the same pan, increase the heat and add more of your fat of choice (coconut oil). Let the fat get hot and then add the onion and sliced snap peas. Sauté for a few minutes until crisply tender. Add the cooked spaghetti squash or Kelp Noodles, chicken and egg to the veggie mix. Stir until all is heated through.
Add as much of your Sunshine Sauce as you want. Stir it all up until everything is well blended.
Plate it. You may want to added some freshly chopped scallions, cilantro,  and/or almonds or cashews. I did and it was delicious.
Sunshine Sauce:
2 tablespoons of FRESH lime juice (I did not use fresh and it was too strong)
1 clove of garlic, minced (about 1 teaspoon)
1/2 teaspoon crushed red pepper flakes
1 tablespoon Coconut Aminos
1/4 teaspoon powdered Ginger
1/2 teaspoon Rice Vinegar (I didn't have any so I used Coconut Vinegar)
1/2 cup Sunflower Seed Butter (next time I'm going to try Almond Butter)
dash of ground cayenne pepper (optional)
1/4 cup Coconut Milk
Method:
Put all of your ingredients EXCEPT Coconut Milk into your food processor and process until well blended
Add the Coconut Milk and process again until smooth.
Use what you need and save the rest covered tightly in the fridge. You can use it as a dipping sauce too.
This was really good and super easy. I suspect this will become a staple meal in my house.
Eat Well, Feel Good, Have Fun!
Related