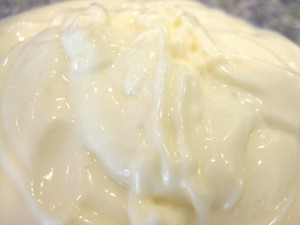 First, I apologize for the photos to anyone out there who gets the hebegebees from Mayonnaise (Jeff, this means you).
Second, BEST Mayonnaise ever! If you like mayonnaise or things with mayonnaise in them then you need to make your own mayonnaise. It's kind of a pain because you have to SLOW drizzle the olive oil but other than that it's super easy.
This mayonnaise is so tasty I felt like I was eating custard. I just had a bit as dip for some cut up veggies (very filling).
I've tried to make mayonnaise in the past and have not had the patience for the super slow olive oil drizzle. This time I was motivated for two reasons. My mother made this last week and called to tell me how delicious it was and I started the 21 day sugar detox yesterday so I'm going to need some delicious goto "fat" when I have a sugar craving.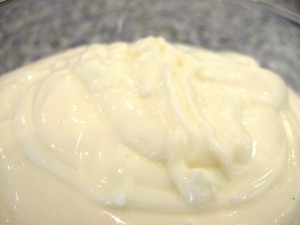 I don't typically eat mayonnaise but I do like things with mayo in them. Next on the agenda, tuna salad. Maybe even some deviled eggs. I made a whole mess of hard-boiled eggs yesterday – perfect.
There are homemade mayo recipes all over the internet. This one came from my new goto cook book, Well Fed. Here is the original recipe. The best thing about this recipe is it explained how to know when the mayo was ready for the trash (very important). Super simple, check the date on the carton of eggs you are using and when the eggs are done so is the mayo. I was really happy to read that. I did make mayo one other time but I only ate it right after I finished making it and then got nervous about it spoiling so I threw the rest away.
Ingredients
1 large egg (room temp)
2 tablespoons lemon juice (about 1/2 lemon squeezed well)
1/4 cup plus 1 cup light-tasting olive oil (not extra-virgin)
1/2 teaspoon dry mustard
1/2 teaspoon salt
Method:
Crack the egg into the food processor, add the lemon juice and let sit for 30 minutes to 2 hours. You want the egg and lemon juice to settle at room temp. together.
Once at room temp. add the 1/4 cup olive oil and other ingredients. Process until well blended.
This is the boring/hard part: turn the food processor on and drizzle the 1 cup of olive oil into the food processor as slowly as possible. You want a very skinny drizzle, the skinniest, drops that make a drizzle. Really boring so get comfortable.
Once all the oil is incorporated (this took me about 5 minutes – maybe more, seemed like an hour) you're done. Scoop your delicious mayo into an airtight container and pop it in the fridge until you are ready to use it.
I'll let you know what I end up doing/making with the mayo. My daughter really wants to make homemade ranch dressing. I saw what looked like a great recipe over at Mark's Daily Apple – it called for a bit of mayo so that's probably on our list things to make.
Eat Well, Feel Good, Have Fun!
Related