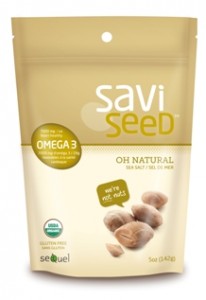 Snacks. When you don't eat grains or processed foods it's really hard to find snacks. The nuts and limited amount of dried fruit gets kind of old. I'm on and off with jerky. Jicama has been a nice alternative but my Whole Foods has been out of jicama for weeks. Anyway, I'm always on the prowl for good snack ideas.
Yesterday I stumbled on SaviSeed. I'm not sure how I found it but once I took a closer look I realized that I might have discovered something I could add to my limited list of grab and go snacks.
Here is a link to the SaviSeed website: http://saviseed.com/ everything I'm going to tell you about SaviSeed comes from their website. Here goes…
SaviSeed is actually Sacha Inchi Seeds. They look like nuts, and they crunch like nuts, they even have an earthy kind of nutty flavor but they are in fact seeds. They are said to be the "super food of the ancient Inca people". Evidently they are also referred to as the Inca Peanut. They grow in the rain forest and the people of Peru have been eating them for centuries. You can learn more about how they grow and are harvested on the SaviSeed website. I'm going to jump right into the Nutritional information.
First, SaviSeed comes in three varieties: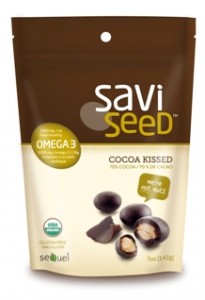 Oh Natural – plain with some sea salt
Cocoa Kissed – you guessed it, chocolate covered (no soy lectin by the way)
Karmalized – glazed with sugar cane
I decided to try the Oh Natural and the Cocoa Kissed. I was going to get the Karmalized but there was just too much sugar in that style. The Oh Natural has no added sugar and the Cocoa Kissed has 5 grams per 1 oz. serving (the 1 oz. serving is a lot). The Oh Natural is a no-brainer but the Cocoa Kissed is o.k. too because it only has about 1 teaspoon of sugar in a serving. That's an acceptable amount of sugar for a snack.
* The Karmalized has 8 grams of sugar in a 1 oz. serving, still technically o.k. but it's pushing at the edges of too much added sugar for me.
As I mentioned, the Oh Natural has an earthy, nutty flavor. Not exactly like a nut. It has its own flavor. The Cocoa Kissed – YUM. The chocolate is dark and rich. Oh, did I mention everything about these is organic. Yup, even the chocolate.
O.k., so that's all great. Something new for a grab and go snack. It gets better…
Here is some information quoted directly from the SaviSeed website:
Each serving of SaviSeed includes:


7000 mg of heart-healthy Omega 3
8 grams of complete, highly digestible protein
5 grams of dietary fiber, which is 20% RDI
Powerful natural antioxidants

With 7000mg of Omega 3 per serving, SaviSeeds offer 13 times more Omega 3 than wild salmon, not to mention they're packed with complete protein, fiber and antioxidants. SaviSeeds are not only healthy, they also taste amazing in three mouth-watering flavors: cocoa kissed, karmalized and oh natural.
You read that right, SaviSeed is a great source of Omega 3s. Here is a comparison chart from the website:
SEEDS
NUTS
FISH
1 ounce of…
SaviSeed
Chia
Flax
Hemp
Almonds
Walnuts
Pecans
Salmon
Herring
Mackerel
Calories
190
137
150
160
161
173
193
40
45
57
Fat (g)
15
9
12
13
14
17
20
2
3
4
Protein (g)
8
4
5
10
6
7
3
6
5
5
Omega 3 (mg)
7000
4915
6388
2400
2
2542
276
565
488
748
Fiber (g)
5
11
8
2
3
2
3
0
0
0
The SaviSeed website does refer to these "Incan Peanuts" as an Indulgent snack. If you noticed the calorie count and fat content of a 1 oz. serving you can understand why but keep in mind, the calories and fat found in other nuts is similar. The good news is, with 15 grams of fat in a serving they are sure to be filling.
I would consider them an "indulgent snack" for one other reason, they are EXPENSIVE. They come in 1 oz. snack packs and  5 oz. pouches. The 1 oz. snack packs cost $2.99 at my Whole Foods. The 5 oz. pouch (pretty small) was a whopping $11.99! Ouch. It appears that the 1 oz. snack size is $2.99 on-line also but the 5 oz. pouch is less expensive at only $9.99 on-line. I haven't ordered any so I don't know if there are shipping charges (probably).
You can learn more about the total nutrients found in the SaviSeed here. They give a list of information about why the SaviSeed is considered a superfood. Here is what they go into detail about:
Omega 3
Protein
Tryptophan
Antioxidants
Gluten-Free
Fiber
Certified Organic
So, there you have it, something to think about and maybe to enjoy now and then. I think the Cocoa Kissed are a great option for dessert especially when I have to have something with chocolate. The chocolate is as good as any I've had plus there is the added nutrient bonus. Winner!
If you try them or have tried them let me know what you think.
Eat Well, Feel Good, Have Fun!
Related