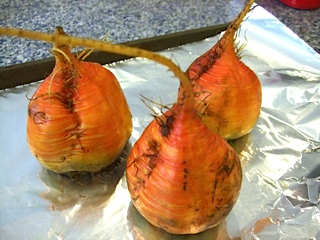 Golden Beets, my other new FAVORITE vegetable. I have never liked beets. I tried them, they tasted like dirt, done.
Over the past couple of years I have been persuaded to give beets another try. One of our neighborhood restaurants is famous for their beet salad. I was their with some girlfriends and they were all excited to get the beet salad. I figured I'd give it a try since EVERYONE loved it. It was amazing! I can't really remember exactly what was in it but I think it was roasted red beets, greens, blue cheese, onion and a balsamic sauce. I'm not sure if that was it exactly but that does sound good so I'll have to try that combo at home.
After the positive experience at the local restaurant I decided I needed to start making beet salad at home. It didn't work out that well. Still tasted too much like dirt. I was off beets again.
Last weekend, I was lucky enough to enjoy a golden beet salad at a friend's house (same friends that served the Jicama). Again, this was a delicious salad. The beets were rich and creamy a bit earthy but I didn't get "dirt". The salad was mostly greens with sliced avocado and roasted golden beets. I'm sure it had a dressing but I didn't really notice. The salad was so good, I was back to thinking I might love beets.
I asked the friends that made dinner how they made the beets – put the beets on a cookie sheet, with skins on and roast at 350 for an hour. As soon as I got home I ran out and picked up some beets and roasted them for an hour. They were delicious. My husband thought they could be a bit softer. The beets were big so I think I could have roasted them for more than an hour.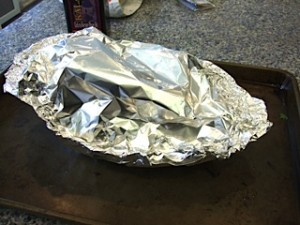 Round two, more golden beets. This time I googled roasted beet recipes to see how long other people roast their beets. I found a recipe that said to put the beets on a cookie sheet lined with tinfoil, sprinkle with a little olive oil and then put a piece of tinfoil over the top of the beets and create a sealed tinfoil bag out of the two sheets. Put the whole thing in the oven at 350 for 2 hours. I had plenty of time so I decided to give this a try. WINNER! The beets were so good. Really creamy and soft but not too soft, just perfect.
* I just read in, The World's Healthiest Foods that you should never roast beets with tinfoil. It doesn't say why but I don't think skipping the tinfoil is a big deal (less waste). The suggestion in the book is to trim the roots and wash the beets then roast at 400 degrees for an hour to an hour and a half. I'm going to go out on a limb and suggest the timing might be longer depending on the size of the beets.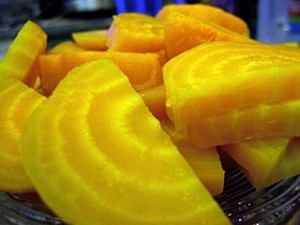 You can tell the beets are done because when you pick them up the skins slip right off. I took them out of the oven and let them cool a bit on the counter until they weren't too hot to handle. That made removing the skins a lot easier and no burnt fingers.
Turns out my husband still doesn't really like beets. Now, he thinks they taste like dirt. I ended up eating all of them – 3 really large beets. I didn't even put them in a salad, I just ate them like potato chips. So good.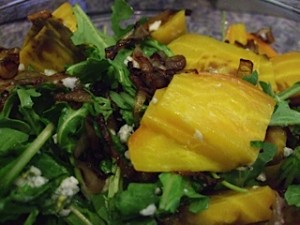 I did make a salad using the golden beets, the first time I made them. That was really good too. I caramelized some shallots and mixed those with some baby arugula, the roasted beets and some blue cheese. I tossed it will some olive oil and balsamic vinegar. It was yummy. I think I will add some chopped walnuts next time. It just seems to call for walnuts.
A little nutritional information about beets from the book, The World's Healthiest Foods by George Mateljan:
Excellent source of Folate
Very Good source of Manganese and Potassium
They are also a good source of Fiber, Vitamin C, Magnesium, Tryptophan, Iron, Copper and Phosphorus
The Best Way To Select Beets
You can select the best tasting Beets by looking for medium-sized Beets with firm roots, smooth skin and deep color. By selecting the best tasting Beets, you will also be getting Beets with the highest nutritional value. (Mateljan)
Cooking Tip
If your hands become stained during the cleaning and cooking process, rubbing them a few times with some lemon juice will remove the stain. (Mateljan)
How To Store Beets
Store fresh Beets in the refrigerator. The colder temperature will slow the respiration rate, helping to preserve their nutrients and keeping Beets fresh for a longer period of time (3 weeks).
Cut off the stems before storing Beets and then place Beets in a plastic storage bag  before refrigerating. I have found that it is best to wrap the bag tightly around the Beets, squeezing out as much of the air from the bag as possible.
Do not wash Beets before refrigeration because exposure to water will encourage Beets to spoil. (Mateljan)
Well, there you have it. Enjoy!
Eat Well, Feel Good, Have Fun
Related