I have posted several articles that I told you I would "let you know" about. One was the Evan's Garden Skin Care Products and the other, more recently was the Fermented Apple Sauce.
I've been using my Evan's Garden skin care products religiously since I bought them. They are expensive and I keep thinking I'll probably buy something else when they run out but right after I think that I start to panic. I'm not really sure why I start to panic but the thought of switching to a different skin care regime makes me nervous. The only thing I can conclude is that I like the way my skin looks and feels. I don't think it really looks that different from before I started using the products but I've never been concerned about switching skin care products in the past so I think it's something subtle or maybe it's not so subtle. My skin looks 100% different from when I get out of bed to when I wash it with my lavender face wash and then put on the botanic oil serum and then the cream moisturizer. It really wakes up. I know that sounds weird but those products do make my skin look fresh and hydrated – a little too hydrated at first, almost oily but it absorbs quickly and I don't think about it the rest of the day. My face doesn't get dry or greasy for that matter. This is actually pretty important since I don't wear make-up most of the time. I might add Mascara but I never use foundation or much of anything on the skin of my face, even when I go out. So, with all that said, why do I think about switching to different products? I think it comes down to expense. At this point, I'll use what I have (which is still quite a lot, I'm not in jeopardy of running out) and if I still like the way my skin looks and feels (without makeup) I'll probably re-up and continue to see how it goes. The instant refresh the products give my skin is great. I'm still evaluating "long-term" results since I really don't have any "long-term" data yet.
The fermented apple sauce was a success. At first I wasn't sure I had done it correctly because it tasted just like regular apple sauce with a bit of an after twang. I decided to use the apple sauce to make a fruit roll-up. That turned out awesome! Super tasty. I did use my dehydrator to make the fruit roll-up. The actual "roll-up" part didn't work out that well. I put a super thick layer of apple sauce on the dehydrating tray. I think it was too thick. It dried in a kind of broken, dried earth pattern. It wasn't one solid sheet that you could peel off and roll up. Regardless, it was yummy. My husband and I just kept peeling the little dried chunks off the tray and eating them (no pictures, we ate it too quickly). We ate the whole thing (it was a 1 quart jar of apple sauce). The next time I make a fruit roll-up I'm going to try it in the oven. I bought a Silpat to line my backing sheet – just the thing for fruit roll-ups in the oven. Here's a great recipe I found for making fruit roll-ups.
One last thing, cooking. I'm happy to make all the food we eat from scratch. I know what's in it and I know it's good for us. At the same time this does get to be quite exhausting mentally. I get burned out, so I'm always in search of recipes or ideas for dinner that I can throw together at 5 or 6 o'clock when I realize it's dinner time and I've got nothin'.  A lot of the time this ends up being "breakfast for dinner", easy, fast, we have all of the ingredients but even that gets old.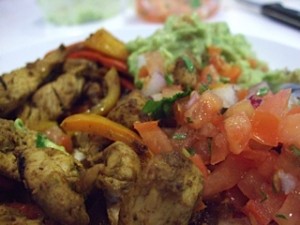 Yesterday was one of those days that Jeff asked me what was for dinner and my answer was "I have no idea". We ended up having Chicken Fajitas. I wasn't planning on mentioning this meal (because you all probably make chicken fajitas all the time) but after we ate it I realized it was SO GOOD and the effort was minimal. 1 pound of chicken breast, cut into strips, some simple spices, cut up red, orange and yellow pepper, a chopped red onion, and some lemon and lime juice. Fast, easy and delicious. We added fresh salsa and fresh guacamole to our plates and had a very filling and tasty meal. This is probably going to become a weekly staple. The picture is of the leftovers that I had for breakfast.
If, by chance you don't have a Fajita recipe, the one I found was at PaleoPlan.com. There are tons of recipes on this site. I'm looking forward to digging through to see what else I can find.
Eat Well, Feel Good, Have Fun!
Related