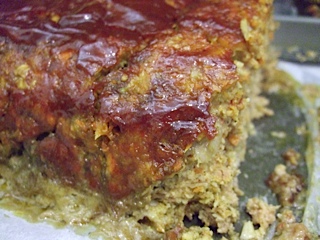 My husband loves meatloaf. He loved meatloaf 20 years ago when I met him. I don't really spend much time thinking about meatloaf but if you put it in front of me I'm usually pretty happy to eat every last bite.
I find it kind of funny that we both like meatloaf but at the same time we never really make it. I can probably count how many times we've made meatloaf over the years – I don't think I'm being conservative when I say it's less than 15. That's less than once a year.
Anyway, last week my husband got a hankering for meatloaf. It sounded like a good idea to me but I couldn't seem to get past the idea part. I had no real interest in making meatloaf. My husband really wanted it so he took it upon himself to make us a meatloaf. You are probably wondering how that went – one word, YUM!
Jeff found a recipe here – he dropped the 6 oz. of garlic-flavored croutons and added 6oz. of Almond Flour. The rest of the recipe was mostly primal friendly. We did add some grated parmigiano-reggiano cheese. Turned out to be an excellent addition.
There is a glaze, it does call for catsup and honey. Very tasty and a bit sweet. You don't have to use the glaze but it's really, really good. Sweet and tangy.
Here is Jeff's version of the Meatloaf recipe:
Ingredients:
6oz. Almond Flour
1/2 teaspoon ground black pepper
1/2 teaspoon cayenne pepper
1 teaspoon chili powder
1 teaspoon dried thyme
1/2 onion, roughly chopped
1 carrot, peeled and broken
3 whole garlic cloves
1/2 red bell pepper
1 lb of Grass-fed ground beef
1 lb of ground pork
1/2 cup of grated cheese
1 1/2 teaspoons salt
1 egg
Glaze:
1/2 cup Catsup (we used organic, next time I'll make it)
1 teaspoon ground Cumin
Dash of Worcestershire Sauce
Dash of Hot Pepper Sauce
1 tablespoon Raw Honey
Method:
Heat oven to 325 degrees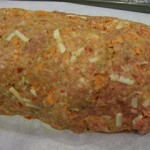 Combine, almond flour, black pepper, cayenne pepper, chili powder, and thyme. In food processor combine, onion, carrot, garlic and red pepper. Pulse until finely chopped – don't purée. Combine the veggie mixture with the ground meat. Once combined mix in the dry ingredient mixture. Season the mix with salt and add the egg. Combine throughly.
You can pack the mixture into a 10 inch loaf pan as a mold or you can just form your meatloaf by hand. Either way, put your molded meatloaf on a parchment paper lined baking sheet. Put a meat thermometer or better yet an electronic temperature probe into the top of the meatloaf at a 45 degree angle. Don't let the probe hit the baking sheet. Set your temperature for 155 degrees.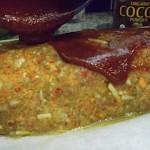 Put meatloaf in the oven and let cook for about 10 minutes. After 10 minutes pull the meatloaf out of the oven and brush on the glaze.
Put back in the oven and let cook until temperature/probe reads 155 degrees.
We had it for dinner, breakfast and lunch. You'll notice that I don't have a picture of the meatloaf without a bite out of it. It came out of the oven and smelled so good that the tasting began immediately. I'm just happy I got a picture before it was gone!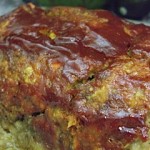 This was so good. The glaze is really, really good. It's sweet and spicy. Really good. I suspect we'll be making meatloaf more often, especially if Jeff makes it! It's nice to have a delicious dinner and not have to make it.
Eat Well, Feel Great, Have Fun!
Related