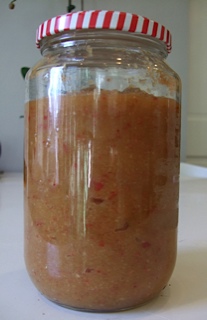 There are two things I want to eat more of, fermented foods and coconut. I keep reading about how both are really, really good for the body. I do pretty well with the coconut but I"m still in need of new ideas. I really need to learn more about fermented foods. My entire repertoire of fermented foods consists of sauerkraut and pickles that I buy at the store. Sad, I know. I'm getting close to diving into the art of sauerkraut but I'm not there yet. Part of the problem is, I can only eat so much sauerkraut.
I decided I'd start with coconut. I prefer coconut to fermented food so I'm a little more motivated to look for coconut ideas. The first thing I did was head over to TheCoconutMama I figured she'd have some great coconut recipe ideas. She has great recipes but I never got to the coconut recipes because right on her home page is a recipe for Lacto-Fermented Applesauce! Applesauce!? Now that sounded like a fermented food I might crave.
The recipe is pretty simple:
6-8 medium apples (cored and sliced)
2 tablespoons Whey or Water Kefir (this was a stopper)
1 teaspoon Cinnamon
1 teaspoon Sea Salt (optional)
Raw Honey to taste (optional)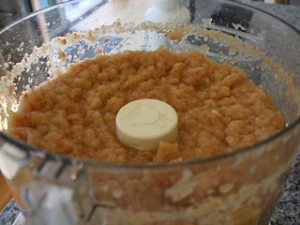 Process the apples in the food processor until you like what you see, add the whey, cinnamon, salt and honey (I used a little salt and a little honey along with a variety of apples). Process it all together and pour or scoop into a 1 quart jar (leave about an inch of space between apple sauce and lid). Place jar in a warm spot for 3 days. After that The CoconutMama says you can keep it in your refrigerator for up to 2 months.
The big stopper from me was the whey. I don't have whey or water kefir, in fact, I don't even know what that is. Not a problem. Coconut Mama to the rescue. She linked right to a recipe for whey and homemade cream cheese from the apple sauce recipe. So, not only am I in the process of making Lacto-Fermented Apple Sauce (it's fermenting) I also made whey and homemade cream cheese!
I made the whey and the cream cheese over night and used the whey just now to make the apple sauce. The whey, cream cheese recipe is super easy. You take a jug of full fat plain yogurt, pour it into a mess strainer lined with cheesecloth that is over a large glass bowl, cover (I used tin foil) and let it sit for 8 – 12 hours (overnight works great).  When it's done you have cream cheese in the cheese cloth and whey in the glass bowl. Fantastic!
I'll let you know how the Apple Sauce turns out. It should be done on Tuesday evening. My plan is to use it to make fermented fruit roll-ups – also Coconut Mama's idea.
Eat Well, Feel Good, Have Fun!
Related