I spend a lot of my time thinking about food and nutrition. How do I choose the right foods to support optimal health? What nutrients do I need etc… I don't really spend a lot of time thinking about my skin care products except maybe that they don't really work! My skin is dry, my face is looking tired and dare I say older. I keep buying and trying different products in the hopes that I'll stumble on a miracle. I have been doing this for years. I really think I should have discovered my miracle by now. No such luck.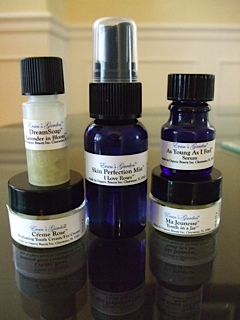 A friend recently turned me on to a company out of Florida called Evan's Garden. The Evan's Garden tag line is "totally natural products that work". Hmmm, this isn't the first time I have thought about natural skin care. It makes sense. I don't like to eat things that have ingredients that I don't recognize and can't pronounce so why do I continue to use products made with chemicals and other ingredients that I have no idea about. If natural whole foods can bring my body into balance and support my overall health why shouldn't absorbing "full-spectrum, whole food nutrients" into my skin do the same thing? Love the idea but finding totally natural skin care products is hard. I thought I had succeeded several times only to realize I still couldn't read the ingredient list. I can read and have heard of most of the ingredients listed in the Evan's Garden products. Cool.
Really, as I read the literature that came with my sample kit I had to laugh. The parallels between what I read everyday about nutrition and the information from Evan's Garden were uncanny. I guess I shouldn't really be surprised. Our skin is our biggest organ. It absorbs nutrients just like the rest of our organs. In fact, a while back I read something about the fact that many skin and hair care products having wheat in the ingredient list and if you are a celiac patient or have a wheat intolerance you could easily be absorbing more wheat toxins through your skin than you do through your diet. I checked the products in my shower, sure enough wheat. I was shocked.
The Evan's Garden literature talks about a process of improvement that goes through stages and ends with a happy result. This reminded me of the "carb flu". Eliminating carbs is a process that detoxes the body. The stages you go through while detoxing aren't necessarily fun but the end result is great! I believe some of the unpleasant stages of skin detox are minor blemishes and perhaps some redness. My impression, from what I've read is that, just like the carb flu the "detox" is different for everyone. Some won't even notice while others may have to suffer through a few blemishes.
The Evan's Garden literature talks about full-spectrum, whole food nutrients and describes products as nourishing and having anti-oxidants. Again, sounds like food. It goes on to talk about circulation and how the product works on a cellular level. Really, everything is connected. This is just another example.
Here's a quote from the "About Us" page on the Evan's Garden website.
In a day and age when petrochemicals, synthetics and drugs assault us from practically everywhere, it's a relief to find and use products that work naturally with our bodies, not against them. What we put on our skin is sure to be absorbed, where it can help… or harm. Evan's viewpoint is that it would be irresponsible to make products that aren't natural and safe. She has learned from life experiences and vast study of natural health approaches, that only natural substances heal and comfort us in a completely positive way.
How can I ignore the parallels! I'm excited. Incorporating these products into my life seems like the prefect complement to all of the other positive changes I've made.
I received my trial pack from Evan's Garden yesterday afternoon so this post is a bit premature but with just two applications my skin actually looks better, hydrated. I love the feel of the products and they smell divine. I couldn't help myself, I jumped in and bought the medium sized Youth Trio Skincare Kit. The sample kit is very small. I hope to make it last but I also wanted to make sure I didn't lapse. Everything is made by hand and the company only ships on Thursdays and Fridays so I had to plan ahead.
Once I've used the products for a month I'll write another post and update you on the progress of my skin "detox". Hopefully I will be through the detox and wallowing in my "happy result". Can't wait!
Simplify and Feel Good!
Related