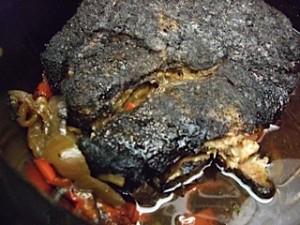 Super easy, delicious dinner (lunch or even breakfast) recipe. When we were packing our 1/4 of a cow into the freezer we noticed that we had a lot of large chuck roasts. I had no idea what to do with a chuck roast but I knew I had to figure something out. Everyday Paleo to the rescue, again. I found a recipe by Sarah Fragoso at EverydayPaleo.com for what she calls a Smokey Roast. Turns out her smokey roast is made with, wait for it, yes, a chuck roast. Yay.
This roast goes right into the crock pot so it is super easy. I LOVE having dinner all set by 9 am.
The picture above is the roast sitting in the crock pot, all done and ready to eat. We ate the whole thing. Well, there was a tiny piece left, not enough for a meal. It's really easy to eat. It falls apart as you touch it.
The recipe calls for a 2.5 pound beef chuck roast. The roast I made last night was NOT 2.5 pounds. It was much smaller. I wish it had been bigger because the leftovers from this are so good (hence, the breakfast suggestion above).
The first thing you need to do is put together your spice rub.
Spice Rub
2 tablespoons ground coffee (I use decaf)
1/2 teaspoon ground chipotle
1 teaspoon unsweetened cocoa powder
1/4 teaspoon cinnamon
1/2 tablespoon garlic powder
1 tablespoon dried oregano
1 tablespoon cumin
1 teaspoon sea salt
Doesn't my spice rub picture look like the sand art you used to do as a kid? Anyway, mix all the spices together and set aside.
Ingredients for Roast
2.5 lb. beef chuck roast (or whatever size you have)
1/2 tablespoon of coconut oil (or your fat of choice)
1 red onion, halved and sliced
3/4 cup of broth (original recipe calls for water, I have used chicken and beef broth and liked it better)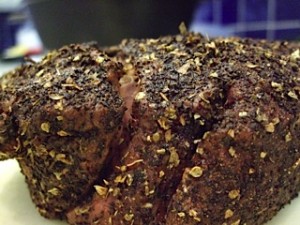 Before you rub the spice mixture all over the chuck roast start melting your coconut oil (or fat of choice) in the skillet you are going to sear the roast in. I'm not sure I used a 1/2 tablespoon. I used as much as I thought I needed to get the job done. While you rub the spices on the roast the oil will get nice and hot. Just the way you want it.
While the oil is getting hot rub the spice mixture all over the roast. Really rub it in. Your hands will be black when you are done. Once you are satisfied with the coverage of the spices place the roast into the hot oil. It should sizzle. Sarah says, if it's not hot enough your spices will fall off and if the pan is too hot you'll burn your meat. I haven't had a problem either way. I have always been able to get a nice seared crust. You want to sear all sides of the meat. Start with about 3 or 4 minutes per side. You can adjust your timing as needed.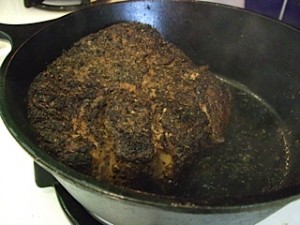 While the meat is searing, cut up your onion and place it in the bottom of the crock pot. Last night I also used a cut up red pepper. It was on the counter and starting to look a little sad. You can really throw anything you want into the bottom of the crock pot especially if your roast isn't 2.5 lbs.
Once the meat has a nice crust place it on top of the onion and whatever else you may have thrown in the crock pot. Pour the liquid on top of the roast. Cover and cook for 7-8 hours on low or 5-6 hours on high.
The picture to the right is of the meat searing. Looks good enough to eat already but if you look back at the first picture in the post you can see how juicy it is after cooking in the crock pot all day. So good.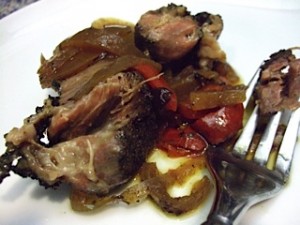 Here it is on the plate. You can see how it just falls apart.
If you would like to read the original recipe you can find that here.
Eat Well, Feel Good, Have Fun!
Related