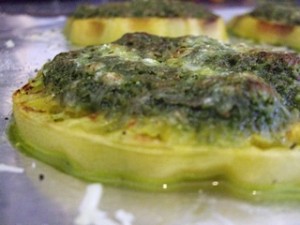 I know it's not tomato season but I couldn't resist buying the giant, organic, heirloom tomatoes that I saw at Whole Foods the other day. They were perfect. Green and firm. My plan was to make fried green tomatoes but I didn't get right to it and the tomatoes sat on the counter for a couple of days. This morning they weren't quite as green or as firm. We needed to eat them right away before they got squishy.
I also, just happened to have a bunch of basil on the edge of still good in my refrigerator so I quickly whipped up some pesto using walnuts, pecans, garlic, oil and some grated parmesan.
The combination of tomatoes that need to be eaten right away, basil on the edge and breakfast time – Pesto topped tomatoes! A quick and really delicious side dish for any meal. All you do is slice the tomato and then plop as much pesto as you like on top add a little grated cheese and pop them under the broiler until they get bubbly and a little brown and you're done.
I cut the huge heirloom tomato that I had into four thick slices. I did put the tomato slices under the broiler for a few minutes before I added the pesto. I won't do that again. They were really good but not firm. If you only put them under the broiler once after adding the pesto the tomato stays pretty firm. I like them better that way. My husband and I each had two huge tomato slices with our scrambled eggs and half an avocado.
I learned a neat way to eat half an avocado from Sarah Fragoso at EverydayPaleo.com. Cut the avocado in half, leave it in the skin and fill the whole where the nut was with olive oil and balsamic vinegar. Sprinkle with salt and pepper and then eat with a spoon. SO GOOD! It's also a great fatty snack if you find yourself having a sugar craving – eat fat instead of sugar. The fat will take care of the sugar cravings.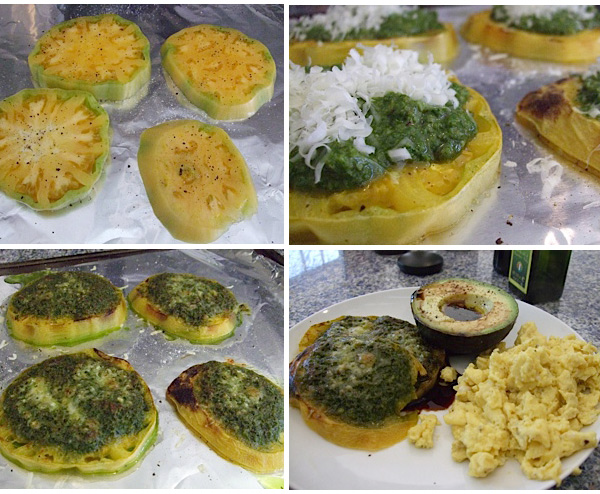 Eat Well, Feel Good, Have Fun!
Related