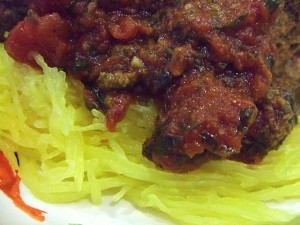 This isn't really anything new but it was soooooo good that I just had to post it. The one new thing is the way I made the Spaghetti Squash. I roasted it. I know, you're probably thinking isn't that how you are supposed to cook spaghetti squash. Well, yes. Unfortunately, for about the past year or two I have been really lazy about cooking spaghetti squash. I would just throw the whole thing in the microwave. It was fine. Usually over cooked.
I recently saw a roasted spaghetti squash recipe by Diane Sanfilippo over at BalancedBites.com and remembered that I used to cook my spaghetti squash in the oven. I would cut it in half and then put it in a roasting pan cut side down in about a 1/2 inch of water. Basically, I steamed it in the oven. Roasting is way better and super easy. The hardest part is cutting the spaghetti squash in half.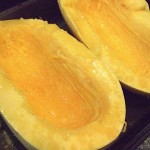 So, I managed to cut the spaghetti squash in half and then I scraped out the seeds and other nasty looking bits. I then, per Diane's advice, slathered the whole thing in melted coconut oil and then sprinkled with sea salt. Put the two halves in a roasting pan, cut side down and put it in the oven for 45 – 1 hour at 375 degrees. NO WATER in the pan. It turns out so well. Perfectly cooked and just a bit charred. The coconut oil gives it a bit of a sweet taste. Really, really good.
With all that delicious spaghetti squash available it only seemed right to top it with meatballs and sauce. I had been cooking the Everyday Paleo Marvelous Meatballs in my crock pot since 8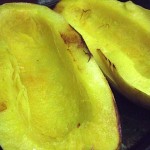 am. I had to get the meatballs in early so they would be ready for the Patriots game. Timed out perfectly. We just ate (late lunch/early dinner) and I am full and happy.
Here is my version of the Marvelous Meatballs recipe. Sarah's page doesn't actually give all of the measurements and I have made some changes. I will italicize the things that I changed.
Ingredients:
2 lbs. grass fed ground beef
1 lb. spicy pork sausage
3 celery stalks chopped
2 carrots chopped
1 yellow onion chopped
2 eggs
1/2 cup almond meal
2 tbsp dried oregano
1 tbsp garlic powder
pinch of cayenne pepper
salt and pepper to taste
What to do:
I put the celery, carrots and onion in my food processor and chop them up. I then put them in a big bowl and add the oregano, garlic powder, cayenne pepper, salt & pepper, almond meal and eggs. Mix it all up really well, then add the meat. Using my hands I mix until it's all really well combined. Depending on my mood I will make large meatballs (baseball size) or smaller meatballs (golf ball size). Place all meatballs in the crock pot – you will have to stack them.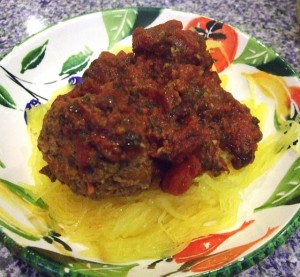 After the meatballs are all stacked and ready to go I mix up a 24oz. can of organic, diced tomatoes with a small can of tomato paste, about 6 minced cloves of garlic then a bunch of dried basil or lots of fresh chopped basil and salt and pepper. I pour this mixture over the meatballs and then cook on low for 7 1/2 hours. Delicious.
We can usually get 3 good meals out of one crock pot full of meatballs and we are big eaters.
So, there you go, super easy Paleo Spaghetti and Meatballs.
Eat Well, Feel Good, Have Fun
Related