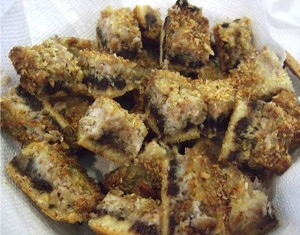 Let me start by letting you know that I got this recipe from BalanceBites.com. I have a lunch thing today and I volunteered for dessert because I wanted to try this recipe. I changed it slightly. The bites are really sweet. It's possible that my change from peanut butter chips to toffee chips might have increased the sweetness but I'm not sure. I think they are just a sweet treat. My son's friends LOVED them (confirms my suspicion that they are really sweet).
Ingredients:
2 Tbsp butter
2 Large Egg whites
1 cup finely ground nuts (I used Almond Flour)
3/4 cup dark chocolate chips
3/4 cup of toffee chips (heath bar)
3/4 cup shredded coconut
1/2 cup chopped walnuts
Sweet, right?
What to do:
Preheat oven to 350 degrees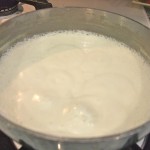 Add coconut milk, honey and vanilla to a pot and simmer over medium heat until it's reduce by 1/2. This should take about 20 minutes. I think I cooked mine down a little longer. Whisk the coconut milk often while cooking down so it stays smooth. It will be thick and rich looking when ready. Mine kept popping enormous bubbles.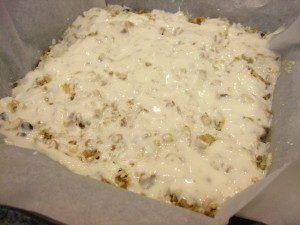 Mean while, beat the egg whites. Mix in the nut flour and melted butter (the consistency was like cake batter). Spread the mixture onto the bottom of a 9×9 inch pan lined with parchment paper.
Layer the chocolate chips, coconut, toffee chips and walnuts. Drizzle the coconut milk over the top and finish by sprinkling the 1/4 cup of shredded coconut over the top.
Bake for about 30 minutes. I baked for a little longer than 30 minutes. I wanted the top to be brown. Cool and then cut into bars or bites. I think "bites" are better because it's so sweet.
It's a great recipe and easy to experiment with different toppings. I'm sure I'll make this again and I'm sure I'll try different types of "chips".
Eat Well, Feel Good
Related