* Alert – my site is acting a little weird with the comments. I just noticed some comments that I had not realized were there. I should have received an e-mail letting me know I had a new comment. I try to respond to all comments. I apologize if I left you hanging. I responded to the comments I found but now notice the comments I responded to are gone. Aarghhhhh. I don't know what's going on.
Sorry about all the recipe posts. I've been writing papers for my class and haven't had time to do any extra research for an interesting nutritional post. Unfortunately the topics of my papers haven't been good post material. I will be looking for volunteers in the next week or so for a short research project that I have coming up. It will be a food diary type of thing. I'll give more details when the time comes. If you think you might be interested in participating let me know and/or watch for the upcoming post about my project.
On to the Chicken Pot Pie…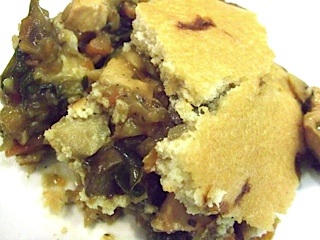 I found this recipe over at health-bent.com my new favorite site for delicious paleo friendly recipes. I wasn't sure how this was going to come out but I've learned to take pictures just in case a recipe turns out to be a keeper. This sure is a keeper.
The crust is really delicious. I never eat things with "dough" anymore. This was a real treat. The crust ingredients called for a teaspoon of salt. I will leave the salt out in the future. It was quite salty tasting but still good. The following list of ingredients is what I used. Here is the original recipe. I only changed it slightly, a little extra of this and not so much of that.
Ingredients:
3 carrots, peeled and diced
2 parsnips, peeled and diced
1 red onion, diced
1/3 of a bag of  fresh "greens for cooking" from Trader Joe's – mixture of mustard, turnip, collards & spinach
3-4 large portabello mushrooms, de-stemmed and de-gilled, chopped
1 teaspoon of dried thyme
1 lb. chicken breast cut into bite size pieces
4 tablespoons of Coconut Oil (Use whatever fat you prefer. Not sure if I used 4 tablespoons, I used enough to get the job done.)
3 cups of Chicken Stock
1 tablespoon of Potato Starch
Salt & Pepper to taste
Crust Ingredients:
1 cup of Almond Flour
1 teaspoon of Baking Powder
4 Egg Whites
1/3 cup melted Coconut Oil (you could taste the coconut, if you don't like that use Ghee)
What To Do:
Pre-heat oven to 400 degrees
In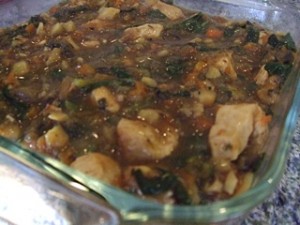 a large pot (I used a deep cast iron frying pan – dutch oven size) heat 1/2 the fat. Let it get pretty hot, you want it to sizzle when you drop the chicken pieces in. Let the chicken pieces cook until they get a bit browned. Once you see brown you can start turning the chicken so it cooks on all sides. The chicken will probably take between 5 – 10 minutes. It really depends on the size of your chicken chunks.
Once the chicken is done, remove it from the pan. Add the remaining fat to the pan if you need it for the veggies. I didn't need to add more fat, there was plenty left in the bottom of the pan. Add the veggies and thyme. Cover the pot. The greens will cook down. Stir occasionally.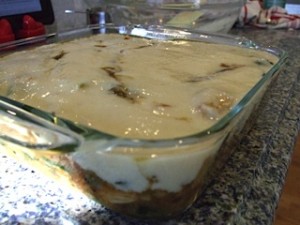 Once the veggies are cooked through and the greens are the way you like them (10 – 15 minutes) add in the chicken stock and bring everything to a simmer. Cook for an additional 5 minutes. Add the chicken back into the pot with the veggies and chicken stock. Mix the potato starch with 2 tablespoons of water – once this is well mixed and there are no clumps pour the mixture into the pot with all the other goodies. Stir everything up, reduce the heat and keep cooking until the consistency is thick like pot pie filling – or the way you like it, it's your pot pie.
Once the filling looks the way you like it, pour it into an oven safe dish.
The Crust:
Mix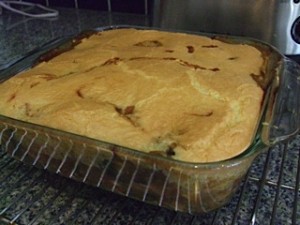 the almond flour and baking powder in a bowl. Add your fat (I melted my coconut oil before adding it to the dry ingredients). Mix everything up with a fork. Add in the egg whites and continue to combine everything using the fork. Once it's all well combined pour it on top of the pie filling. My crust mixture was very runny (probably because I melted the coconut oil), like soupy cake mix. This worked out well. It covered the pot pie mixture really well and because it was so runny it ran down the inside edges of the dish a bit. This gave my pot pie a little of crust around the edge.
Baked the pot pie for about 15 minutes. The top should be hard and a golden brown color when done.
This was really good. I will definitely be making this again. It will probably end up being one the dinners that shows up on the weekly rotation. It's excellent the next day.
Eat Well, Feel Good, Have Fun!
Related