Trying to find things, protein, that my daughter will eat is hard. She would eat Sashimi everyday all day if she could. Unfortunately raw fish, or just too much fish in general brings its own kind of toxins to the table.
One thing that we have found that she will eat on a semi regular basis is chicken wings. Before we realized she was wheat intolerant she had a hard time with spicy food, actually, she had a hard time with everything. Now that she has cleaned up her diet the spicy food doesn't seem to bother her. She actually seems to enjoy spicy flavors.
I have never made chicken wings (my husband has an aversion to chicken – if everyone would just eat the same things my life would be a lot simpler). I would usually pick up cooked wings at the grocery store, as long as they weren't breaded. Non-breaded wings are getting harder and harder to find and the pre-made wings are kind of expensive. Time to make some wings.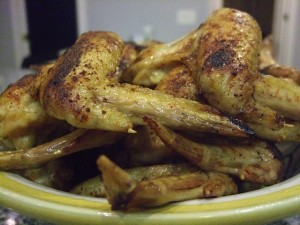 I remembered seeing some chicken wings in my Paleo Comfort Foods cookbook by Julie & Charles Mayfield. I quickly grabbed my cookbook and found the recipe. It's a great recipe, nothing crazy it's all stuff you have in the house – LOVE THAT. My daughter and I made the chicken wings. It was super easy.
Turns out, these are THE BEST chicken wings ever! I can hardly believe it was so easy. The best part is, since my daughter helped make them she can now do it herself! She ate half the wings in one sitting. This is huge. She never eats that much meat. As she is stuffing her face she is telling me how she wishes I could send them to her at school – high praise Julie & Charles.
Julie & Charles Mayfield gave me permission to reprint the recipe here for all to enjoy.
Spicy Chicken Wings from Paleo Comfort Foods by Julie & Charles Mayfield
20 chicken wings – drums & flats (I only had flats)
Hot Sauce
2 tablespoons of Hot Sauce – I used Watkins Calypso Hot Pepper Sauce. I also only used 1 1/2 half tbsp because I can't eat things that are too hot.
1/4 cup butter – I used my homemade CoconutGhee – yum
1 tablespoon Apple Cider Vinegar
1/2 teaspoon paprika – I didn't use this because I ran out, arghhhh
1/2 teaspoon cayenne pepper
1/2 teaspoon black pepper
1/4 teaspoon garlic powder
1/8 teaspoon celery seed
Here's what you do:
Pre-Heat the over to 375 degrees, place wings on greased sheet pan.
Bake for 30 minutes or until cooked through and crispy – 30 minutes worked out perfectly for us
Combine all the ingredients for the hot sauce in a medium sauce pan
Set over low heat, mixing until the butter is completely melted and combined; simmer for 5 minutes and remove from heat. – my CoconutGhee and spices never really combined. Not sure why but it wasn't a problem.
When wings are baked, dip in sauce and coat well, shake off excess and return coated wings to sheet pan. – since my butter and spices didn't really combine I dipped each wing and then rubbed it on the bottom of the pan to pick up the spices. This worked well.
Reduce oven temp. to 250 degrees and cook for 15 more minutes. Toss wings in remaining sauce and serve.
One variation that Julie and Charles give is to finish the wings on the grill. That was my plan. My grill had other plans so I did put the wings back in the oven at 250 degrees but I only put them in for 12 minutes. I then finished them under the broiler for about 2 minutes. This made them nice and crispy.
The wings were so good. Spicy, but not too spicy (my lips did burn for a little while after I had finished eating) and they had a subtle sweetness which I LOVED. I think the sweetness came from the CoconutGhee (I love that stuff. I have to make more already, it's almost gone).
As I mentioned earlier, I can't just make one dinner. No one eats the same things. While I was making the chicken wings I was also finishing up a second meal for myself and my husband (also yummy – I'll post that one tomorrow). I ate chicken wings the whole time I was preparing the "grown-up" dinner. Oh my belly! I ate too much but I couldn't help it, everything was so good.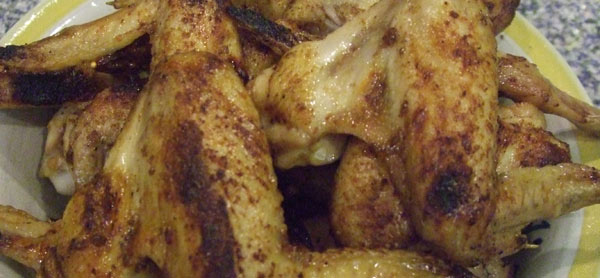 Eat Well, Feel Good, Have Fun
p.s. my daughter just came down stairs and headed straight to the left over wings for breakfast.
Related