I made this beef stew the other night as the "grown-up" meal. This recipe is yet another FANTASTIC recipe from Sarah Fragoso's cookbook Everyday Paleo. I don't have any pictures of the finished meal because I really didn't know it was going to be so unbelievably good. I did start taking pictures as I was putting it all together but I lost interest because beef stew is beef stew, right? Wrong!
The first thing that was different was adding the acorn squash on top of the stew meat in the crock pot. The second thing that was different was the sauteéd kale that I served it on. The flavors of the beef, acorn squash and kale mixed together so perfectly – sweet with a little tang.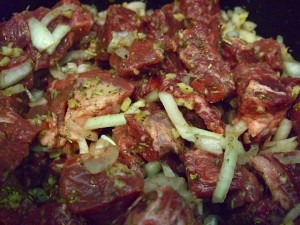 This is a close up photo of the stew beef mixed with 1 chopped yellow onion, minced garlic, some spices and a 1/2 cup of chicken broth. This looked pretty good all by itself but when I added the acorn squash on top it really started to look interesting.
The prep time for this beef stew is fast,  about 10 minutes. I didn't even braise the beef before I put it in the crock pot.
I should have realized that it was going to be more than delicious because the house smelled so good all day. I was really looking forward to dinner. The only reason I decided to add sauteéd kale to our meal was because we need to eat more vegetables. A last minute decision that made the meal.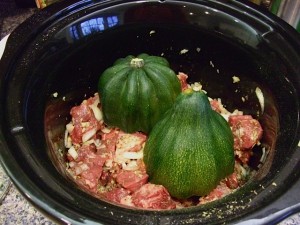 Ingredients:
2 pounds of stew beef
1 yellow onion, finely chopped
10 – 12 garlic cloves, minced
1 tablespoon ground marjoram (I didn't have any so I used an Italian spice mix)
sea salt & black pepper to taste
1/2 cup chicken broth
1 acorn squash, halved with seeds removed
Put everything in a slow cooker except the acorn squash. Mix it all up really well. Put the acorn squash on top of the meat mixture, cut side down. Put the cover on the slow cooker and cook on low for 6-8 hours.
When it's all done scoop out the acorn squash onto a platter or individual plates and top with stew. Yum, but wait! If you are interested in adding a little kale into your diet put some sauteéd kale on the plate first then add the acorn squash and beef. Super Yum!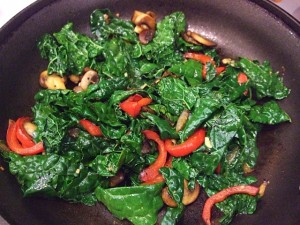 Sauteéd Kale – o.k., I am reusing a picture from the first time I made the sauteéd kale. I didn't take a picture this time around but I did make the same thing.
There were two things that I did differently with the sauteéd kale. I used red leaf kale this time and I sauteéd all the veggies in homemade CoconutGhee instead of olive oil.
CoconutGhee (or whatever you prefer)
1 yellow onion, sliced
1 red pepper, sliced
sliced mushrooms (as many as you like)
3 garlic cloves, minced
1 bunch of Kale
I heated the CoconutGhee (in my new cast iron frying pan). Once the Ghee was really hot I added the sliced onion and red pepper. I let the onion and pepper cook for a bit and then added the mushrooms. I turned the heat down to medium-low and let the veggies caramelize a bit. Once the veggies looked yummy I added the kale. When the kale started to wilt I added the garlic. I kept mixing it all around and cooking until the kale was wilted to my liking.
Ta-da, nothing to it, an easy quick dinner – with a super food included!
Eat Well, Feel Good, Have Fun!
If you are interested in Cast Iron cookware and want to know how to season it check out this post over at ThePaleoMom.com
Related