First, I am not a baker. No real reason why not, I just don't tend to bake. It's probably because I'm afraid I'll gobble every last crumb up all by myself. Sweet things really set me off. Once I get started it's really hard to stop.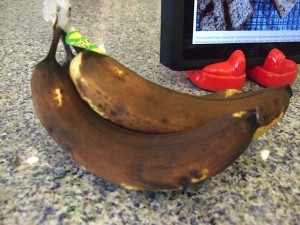 There are three reasons why I have finally decided to try my hand at baking. First, I have been looking at "paleo" treats for a while. I keep reading that paleo treats don't create the sugar buzz that traditional treats do. I like the sound of that. It would be nice to have a baked good now and then that won't send me in search of cookies and candy bars. The second reason, and this is a little embarrassing, is that it has just occurred to me that if I want my 15 year old son to stop eating nasty processed treats I should probably make him homemade treats. Dah! No kidding, I just thought of that. The third and most important reason is the three really black/brown bananas on my counter.
I found this Banana Bread recipe at Health-Bent.com. I scoured the web for a paleo banana bread recipe that didn't have a lot of added sweeteners. I found a bunch of recipes but most of them had maple syrup, or even regular sugar. My sweet tooth starts to hum when I read the words maple syrup & sugar. There is one really delicious looking recipe over at PrimalPalate.com. I'm going to try that one at some point. I do LOVE dates.
On to the Banana Bread of today. It turned out GREAT! I didn't have a loaf pan so I made muffins. The batter made exactly 12 regular sized muffins. Super moist and fluffy. I ate one right out of the oven. Not too sweet, just sweet enough. My daughter just ate one and loved it (she is hard to please).
Ingredients:
1 cup almond flour
1 cup almond butter
3 medium, really ripe bananas
2 eggs
1 teaspoon baking powder
1 teaspoon baking soda
1/4 cup melted chocolate, optional (I didn't use the chocolate)
What to Do:
Preheat oven to 350 degrees
Combine all of the ingredients (except chocolate if you are going to use it) in your mixing bowl. Mix until it is all well combined and there aren't any visible chunks of banana. Spoon batter into 12 regular sized muffin cups (I used liners in my muffin pan). If you are using the chocolate, pour a little on top of each muffin. You can swirl the chocolate with a toothpick.
I baked my muffins for 20 minutes in a convection oven. I put the temp down to 330 degrees because of the convection bake.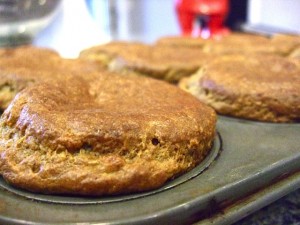 If you use a loaf pan you want to cook for about 35-40 minutes. You want the center of the loaf to be hard to the touch.
*I added chopped walnuts to my batter. Love it! The walnuts are a perfect complement to the bananas. I think chocolate chips would be great. I also think some shredded zucchini would be delicious. I'm sure there are a zillion things you can add. If you have a great idea please share it.
Enjoy, Eat Well, Feel Great!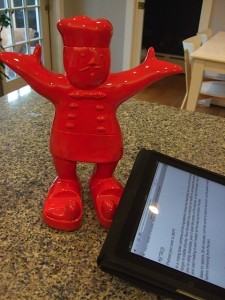 * Did anyone notice my awesome little kitchen dude that holds my IPad. You can just see his feet in the first image. Thanks Mom! He's great and he looks really cute on the counter.
* 15 year old son, liked, did not love the muffins. He suggested that I make banana bread, because he likes banana bread. I told him these were banana bread! Hmmmm… I think maybe I'll try 4 bananas next time. He does eat a lot of processed food so I think his sweet tooth is out of wack. The muffins are delicious and plenty sweet.
Related