The Stuffed Dates and the sautéed Kale are two different recipes. The title makes it look like they are one thing. That doesn't sound very appetizing to me.
This will hopefully be a quick, short post. The last couple of posts have been way long – sorry.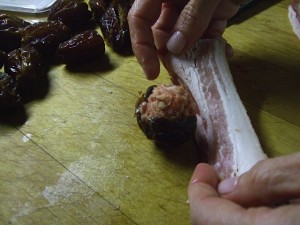 While I was visiting family for Christmas I did have an opportunity to add a few paleo treats to the Hors D'oeuvre selection. I made the Bacon Wrapped Stuff Dates from Everyday Paleo. I LOVE bacon wrapped stuffed dates and until last week I had never made them. I can hardly describe how delicious they were. They were like candy!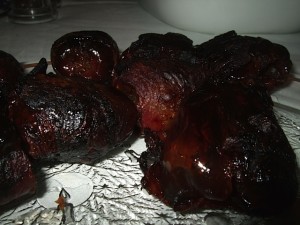 The dates are stuffed with a little, tiny meatball of pork sausage. Once stuffed you wrap a half strip of bacon around the date. Mine were actually kind of big. I'm not sure if the dates were just huge but in any case the little date, pork, bacon packages were large. The recipe that I followed came from the Everyday Paleo cookbook by Sarah Fragoso. This is the best cookbook. I haven't made anything from this book that isn't delicious.
A funny thing happened when I was eating the dates. They were so sweet and candy like that I was feeling a bit guilty eating them. I mentioned that and my brother-in-law said something about the pork and bacon being a double whammy. I laughed and told him it wasn't the bacon and pork making me feel guilty, it was the sugar in the date! How things have changed.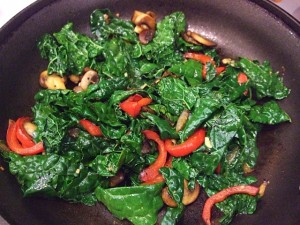 Enough with the sugary treats (the dates would be great for a New Years Eve party) and onto Kale. Kale is also a food that I have never cooked. Actually, I don't think I've ever eaten kale. I keep reading about how healthy it is so I decided I needed to jump in. I made some sautéed kale last night. It was good. I read somewhere that the best way to start with kale is to mix it with other vegetables that you like. That's what I did. I sautéed some onion, red pepper and mushrooms. Cooked the veggies until they looked just the way I wanted them, added the kale and a bit of garlic and sautéed until the kale looked ready to eat.
It was delicious. I really liked the consistency of the kale. It was like spinach but not so limp. I'm really looking forward to trying more recipes with kale. 2012 will be my year for kale and hopefully some other goodies that I have never tried before.
Happy New Year!
Related