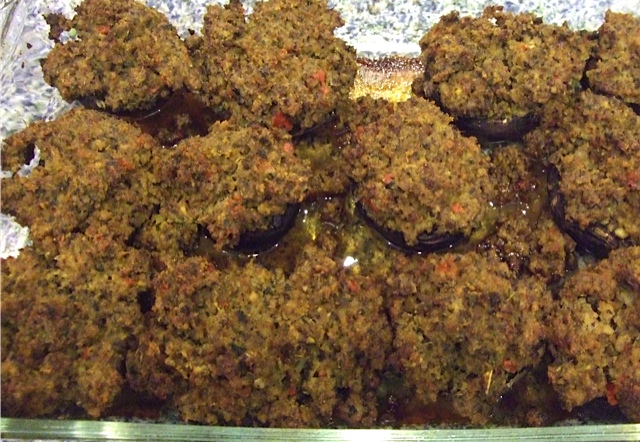 This is one of our favorite meals. This recipe is right out of Everyday Paleo by Sarah Fragoso. If you haven't bought this cookbook you should. Everything is so good. It makes me think I'm actually a good cook (I'm not). Sarah calls them Giant Stuffed Portobellos in her book.
I have made them in Giant Portobello mushroom caps. Love them. My husband asked me to make them in smaller mushroom caps so they would be more bite sized. I made this batch in "Portobello Stuffers". That's what it said on the label. They are kind of small/medium sized. Not quite bite sized, maybe four bites. Yum. The stuffing filled 16 Portobello Stuffers. That amounted to two dinners for us.
Here is the recipe, the way I made it. The original recipe is at EverydayPaleo.com
Ingredients:
16 Portobello Stuffers
1 Medium Red Pepper, diced
1 Red Onion, diced
3-4 Celery Stalks, depending on the size, diced
6 Garlic Cloves, minced (out of a jar for me)
1 lb. Spicy Italian Pork Sausage – casing removed
1 lb. Ground Beef (grass-fed preferably)
1 tsp. Paprika
1/4 tsp. Cayenne Pepper
2 Tbsp. Dried Basil
1 Tbsp. Dried Tarragon (this is what makes them taste so good)
Pinch of Sea Salt
Black Pepper to taste
1 Egg
1/4 cup Extra-Virgin Olive Oil
1/4 cup Coconut Flour
Pre-Heat Oven to 400°
Clean the mushroom caps with a moist paper towel
Pop off the stems and save them for the stuffing
Use a spoon and gently scoop out the gills inside the mushroom cap.
Rub the outside of the mushrooms with olive oil and place in a baking dish (I had to use two baking dishes for 16 stuffers. I can fit 7 big caps in one dish)
Dice up the veggies: red pepper, onion, celery, mushroom stems and garlic mix in a bowl and put aside
In a large soup pot or giant frying pan (that's what I use) brown the sausage and ground beef
add in the veggie mixture and cook until veggies are tender or the way you like them
turn the heat off under the meat mixture
add in the spices, the egg and the coconut flour – mix it all up really well
move half the meat and veggie mixture to your food processor – if you can fit all of it do that, I can't.
add half (1/8 cup) of the olive oil into the food processor with the meat and veggie mixture
process until chopped don't go to long or it will get mushy
fill/stuff as many mushroom caps as you can with mixture and then repeat the previous 3 steps with the second half of meat & veggie mixture.
Over Stuff.
My recipe differs from Sarah's when adding the spices, egg and coconut flour. I can't get my whole mixture into the food processor at once. There is just too much. I didn't want to risk splitting the egg, spices and coconut flour unevenly so I just added it before the processing. Seemed to work out just fine. Yummy in fact.
Eat Well & Feel Good
Related