I made my first recipe using Kale the other day. I liked the kale so I decided it was time to try another Kale recipe. Time to give "Kale Chips" a try. I do miss the crunch from crackers and other chips so I decided I was going to LOVE kale chips even though I had never tried them. Off to Whole Foods.
Since I had already decided that I was going to LOVE kale chips I didn't just buy one bunch of kale, I bought 4 bunches of kale. I wanted to make sure I would have enough chips to satisfy my crunch. Of course, I couldn't just buy one type of kale, I had to mix and match. Probably not the best idea for a trial run, but whatever. – (my daughter just came downstairs and told me the kale smell was making her sick, nice.)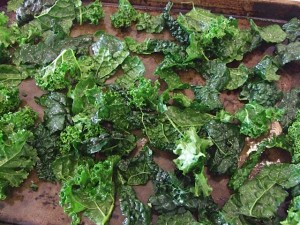 Here is a picture of one (of six) tray of kale ready to go into the oven. You may be able to see that there is curly kale mixed with flat kale. The "flat" kale is Lacinato Kale, also known as Tuscan Kale, Cavalo Nero (black cabbage) or Dinosaur Kale.
I had read that the Lacinato Kale was slightly sweeter with a more "delicate" flavor than the "lively" bitter, peppery flavor of the Curly Kale. I decided to try both since I really didn't know what I would like.
Turns out my husband and I really liked the texture of the Curly Kale. The Lacinato Kale kind of disappeared as soon as you put it in your mouth. The Curly Kale had a much better mouth feel. It gave the sensation of actually having something substantial in your mouth, if only for a second. I did not find either variety of kale to be overly bitter. It kind of tasted like spinach to me. My daughter also thought it tasted like spinach.
The other great thing about the Curly Kale is prep time. The Curly Kale comes off the stem easily and quickly. You just grab the bottom of the stem, close your hand and then slide your hand up to pull the leaves from the stem. Any stem that comes off with the leaves is tender enough to cook with the leaves. The Lacinato Kale took a little longer to de-stem. Not a big deal but de-stemming the Curly Kale was more fun.
Here is a giant pasta serving bowl full of Kale Chips.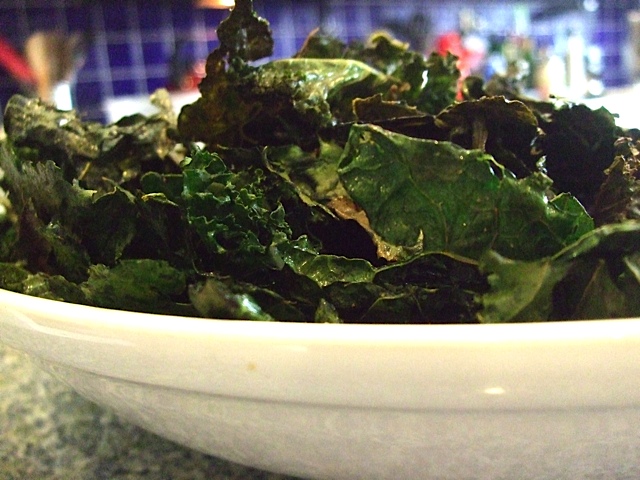 To make the chips, I de-stemmed the kale, and ripped the leaves into bite size pieces. I then mixed the kale pieces with olive oil, sea salt, a little garlic powder and some pepper. I placed the kale pieces on cookie sheets, making sure nothing over lapped and then put the cookie sheets in the oven at 350 degrees for about 10 to 12 minutes. I played around with the temperature and 350 seemed to work well. The cook time was pretty fast. I did add some vinegar to a couple of batches (salt & vinegar, yum) and those needed to cook a bit longer.
Here are some interesting Kale facts:
Kale is considered a Super Food
One Cup of Kale contains 36 Calories
One Cup of Kale has 1327.6% DV of Vitamin K
One Cup of Kale has 192.4% DV of Vitamin A
One Cup of Kale has 88.8% DV of Vitamin C
One Cup of Kale is also a "very good" source of Manganese, Dietary Fiber, Copper, Tryptophan, Calcium, B6 and Potassium
One Cup of Kale is a "good" source of Iron, Magnesium, Vitamin E, B2 Riboflavin, Omega-3 Fatty Acids, Protein, B1 Thiamin, Folate, Phosphorus, B3 Niacin
Kale is available year round but best during the winter months
Please share your favorite kale recipe in the comments section. Any ideas I can get for cooking kale would be very helpful.
Happy New Year, Eat Well, Have Fun!
Related