My husband is away and Boy-o had to stay late at school so I am home alone making dinner for myself. Yum! Again, not sure if the picture does this justice or if it just looks gross. Hopefully, it doesn't look gross because it was delicious!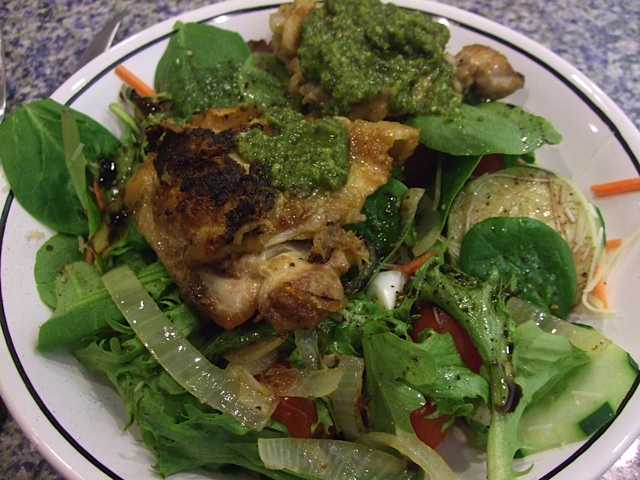 Chicken Thighs with Skin & Bones cooked in Coconut Oil served on salad.
The rest of my family does not find chicken appetizing and because of that I rarely get to make it. I do have one chicken tenders recipe that my husband will eat but he can't watch me make it. Very frustrating. The opportunity to make chicken (especially thighs) with skin and bones never presents itself. I'm so glad I decided to make this. It was soooo good. You'll see from the ingredients that I really did just throw this together. No homemade pesto or chopping of garlic.
1 package of free range chicken thighs with skin and bones (probably a pound)
Coconut Oil (about 2 tablespoons)
Salt & Pepper
Italian Spice Mix
1/2 a Yellow Onion in slices
Minced Garlic out of a Jar (2 – 3 teaspoons)
3 Rosemary Sprigs
1/4 cup of Chicken Broth
1/2 lemon squeezed
Basil Pesto from Whole Foods*
I washed the chicken and then patted the thighs dry. I then covered the front and back with freshly ground salt and pepper. I added a sprinkle of Italian seasoning to the skin side of the chicken.
While I was preparing the chicken thighs I was melting coconut oil in a large frying pan. It was probably 2 or 3 tablespoons. I didn't measure it. I just put what I thought was enough to cover the pan when melted. It's a really big pan.
Once the coconut oil was really hot I put the chicken thighs in skin side down. I let them cook until the skin looked good and brown. 5 minutes or so.
When the skin is browned to your liking flip the chicken thighs over and cover with the sliced onions, minced garlic and rosemary sprigs. I probably used 3 or 4 garlic cloves. I scooped the garlic out of the jar with a spoon and then sprinkled it around and onto the chicken and onions. Use more or less garlic depending on your taste for garlic. I LOVE it.
Add the lemon and chicken broth. Turn the heat down to low/medium and cover the pan. I let it cook like this for about 12 minutes. When I took a look the chicken looked done.
The moisture from the lemon and chicken broth made the skin a little soft so I turned the chicken back over and cooked it skin side down until it got a bit crunchy (the way I like it). This was probably just 2 or 3 extra minutes of cooking. It did stick a bit but I got most of it out of the pan.
I had a salad already to go and dressed with oil, vinegar, salt and pepper. I put two chicken thighs on top of my salad with some of the sautéed onions and a bit of pesto dabbed on top of the chicken. I don't generally eat pesto because I TOTALLY over do it. I love pesto. Tonight was not an exception. When I said "a bit" it was probably more like 2 tablespoons per chicken thigh. YUM.
I have the extra cooked chicken thighs and onions in the fridge for lunch tomorrow. I do love leftovers.
This recipe is an adaptation of one I found on the Everyday Paleo website. Sarah's recipe includes a homemade pesto recipe.
*If you are buying pre-made pesto make sure the ingredients are all natural and there is no vegetable oil. I just noticed that the pesto I picked up has "non-GMO Canola Oil" in it. I won't buy it again. I probably won't even finish the stuff I have.
Eat well and Have Fun
Related