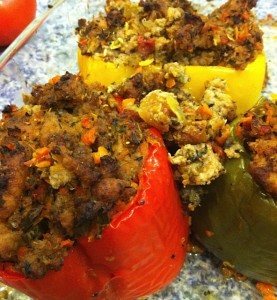 I'm not sure if the picture makes these look good or not. I'm new to food pictures. Regardless of what the picture says, I can tell you they are GOOD. We love them. As a matter of fact, I'm going to go have one for breakfast as soon as I'm done with this post.
This recipe comes from Everyday Paleo by Sarah Fragoso. I'll make note in the recipe if I changed anything.
I do try and use all organic ingredients. That includes the can of tomatoes. I have found that using my little food processor for the veggies really speeds things up and makes this something you can throw together at the last minute. Chopping by hand would probably yield a "chunkier" stuffing. I will probably do that at some point because I like chunky veggies.
Ingredients:
4 tablespoons extra-virgin olive oil (I don't measure. You can also use Coconut Oil, yum)
1 yellow onion finely chopped (I use a big onion – food processor, yay!)
3 celery stalks, finely chopped (sometimes I use more – food processor)
3 carrots, finely chopped (big carrots – food processor)
1.5 lbs. Italian Pork Sausage (We like spicy pork sausage. I've used mild, also good.)
1 lb. Grass-fed Ground Beef
2 tablespoons dried oregano
1 tablespoon garlic powder
Sea Salt and Black Pepper to taste
1 Yellow Squash, finely chopped (food processor – if you want big chunks you might want to chop by hand)
3 cups Fresh Basil (I used dried – didn't measure, just poured it in until it looked like enough. No more fresh basil until next spring.)
1 (14.5 oz.) can of diced tomatoes
5-6 Bell Peppers (I could easily have filled 8 peppers)
1 tablespoon hot sauce (I use this when I use mild pork sausage)
What to do:
1. Preheat oven to 350° F. (sometime I make the stuffing ahead and then put it together later for dinner)
2. Bring water in a large pot to a boil. You need to fit the peppers in the pot of water so make sure it's big enough.
3. Chop the onion, celery and carrots (I usually do this while I'm waiting for the water to boil)
4. Heat the olive oil (or whatever you choose to use) in a pan/pot big enough to hold all ingredients except the peppers.
5. When oil is good and hot dump in the onion, celery and carrots. Sauté until the onions are translucent.
6. I usually prepare the peppers while the veggies are sauteing. – Chop the tops off the peppers, rinse and remove all seeds and insides.
7. Once veggies are sautéd to your liking crumble in the pork sausage and ground beef.
8. While the meat is cooking add in your dry ingredients (oregano, garlic powder, salt, pepper) and hot sauce if you are using it.
9. Place your cleaned out Bell Peppers in the boiling water. Submerge. Leave them in the boiling water for about 5-6 minutes. You don't want them to get too soft. A little crunch is good.
10. Add the yellow squash, basil and can of tomatoes to the meat mixture. Mix it all up and cook over medium-low heat for an additional 10 to 15 minutes.
11. Check your Bell Peppers. If they are done to your liking pull them out of the water using tongs and place in a large baking dish (I use a big glass lasagna pan).
12. When the meat mixture is done stuff it into the peppers. OVER stuff. Put any extra stuffing around peppers in baking dish. The overflow stuffing is really good.
13. Place stuffed peppers into your pre-heated oven and cook for 20 minutes. *if I have made the stuffing earlier in the day and it's cold when I stuff the peppers I usually leave them in the oven for more than 20 minutes. Maybe 30 or 40 minutes so they get good and hot.
This really is an easy meal. The wow factor is BIG. It always makes me feel good to see the finished product. Somewhere along the way I learned how to cook (or at the very least follow a recipe)!
Enjoy! Eat well.
Related